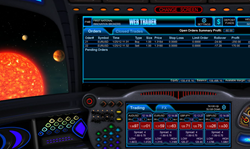 Montevideo, Uruguay (PRWEB) June 17, 2014
[http://www.Firstnationalib.com was the world's first forex currency trading broker to accept bitcoin. http://www.firstnationalib.com/landing_static.html As Swiftcoin slowly becomes better known as a stable alternative to the wildy volatile bitcoin, forex traders and even hedge funds are taking a closer look at FNIB and its unique offerings. The question has even been raised whether Swiftcoin could undergo a dot com style bubble as bitcoin has.
http://www.FNIB.co was organized in New Zealand in 2011 by Daniel Bruno, a Chartered Market Technician and post graduate of the Oxford University Business School. In 2010, he was featured on CNBC and Fx Street for his prescient gold and forex forecasts at http://www.fxboss.info He has been quoted at Bloomberg, Market Oracle and RT.
A Hong Kong gambling magnate provided angel investor initial funding for Firstnationalib.com The firm aimed to provide online forex trading to high rollers known at casinos. Online forex trading was expected to be as successful as online poker because trading forex is also a matter of skill and luck. The forex market turns over trillions of dollars every day and forex trading currencies at FNIB include all the majors as well as NDFs such as the Chinese yuan. Online forex speculation with high leverage proved to be a thrill for Baccarat and Blackjack players. The FNIB forex system requires familiarity with financial markets and serves as an alternative to stocks in a bear market. The 24 hour nature of forex trading is also a big attraction to many people looking for an investment challenge and opportunity after work.
From the start, the company offered key advantages. Leverage of up to 1000 to 1. No slippage. Tightest spreads in the industry. Retail and corporate accounts opened quickly with payout in cash, Bitcoin or Swiftcoin. [http://www.firstnationalib.com/landing.html No dealing desk. Direct market access on the proprietary FNIB 1.0 web based trading station; no MT4 white labeled product. The strictist privacy in the industry along with thousands of likes and followers on facebook and google plus have given clients the confidence to open an account.
According to a survey conducted in Russia, FNIB.co is one of the top ten forex brokers in CIS countries. Voted Best Forex Customer Service https://ru-ru.facebook.com/ForexClubRu?_fb_noscript=1 Nominated for Most Innovative Financial Product 2012 according to client poll at FxBoss and popular forex groups at Vkontakt. FNIB was a registered Financial Service Provider until 2013 when parliament enacted sweeping changes to company laws that indiscriminately de-registered thousands of companies across the board.
With interest rates at zero and even sub-zero, naked-short gold price manipulation, bank bail-ins (confiscation of deposits) and the end of financial confidentiality, market players are left with no conventional options. Markets are rigged and crony-Capitalism reigns. It's time to think outside the box. First National Innovation Brokers is here to help. The contact page even features optional PGP.
The FNIB trading platform is geared towards sophisticated investors and gamblers with at least 100K in disposable income per annum. It provides an excellent substitute for ETFs such as GLD and SLV, enabling speculation on gold and silver without the overhead and risks of bullion. FNIB accepts bitcoin, Swiftcoin, litecoin, physical gold, art, antiques, commercial paper, real estate of all kinds, equities, corporate and treasury bonds to fund account opening. http://www.firstnationalib.com/easy-start.html
Bloggers and commentary are welcome at the FNIB http://www.fxinfo.org page. Unconventional wisdom is encouraged but being well informed is a must. Ninty FNIB forex instructional videos are available free of charge at the wwwfnibco Youtube channel. Introducing brokers are welcome and can earn some of the highest commissions in the industry.
Over time, the astute forex trader will see patterns that give him the upper hand when trading online. For example, the Swiss Franc and Japanese Yen are highly correlated to gold. Historically, both these currencies strengthen along with gold and when these currencies reach major resistance gold will surely stop climbing. The reverse is also true. Elliot waves, the deMark indicator and Ichimoku clouds are the best forecasting tools for these particular currencies and a lot of money can be made by using them.
Other currencies such as the Turkish Lira and South African Rand lend themselves to the carry trade but must be purchased when they are oversold on a yearly chart, i.e. when nobody wants to own them. The VIX index is also a great forex market timer once one has gained a certain intuition about currency and commodity behavior during times of fear. Many retail investors expect gold to appreciate during the next stock market crash but history shows that when asset deflation set in, gold tumbles and the dollar rises. For more information about these and other topics, please drop us a line.