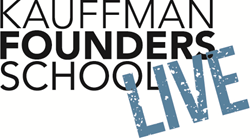 Kansas City, Mo. (PRWEB) June 18, 2014
Makers, crafters, inventors and hackers now have another reason to attend Maker Faire: Kansas City later this month: the opportunity to hear marketing expert Anita Newton talk about how to market a product. Presented as the latest installment in the Kauffman Founders School Live series, Newton will provide entrepreneurial marketing insights specifically for makers at 12:30 p.m. CT on June 29.
"The battle is no longer about large agencies and big budgets," said Newton, whose startup marketing insights and expertise are featured in a Kauffman Founders School series. "Today, all you need is a really good product that meets a customer need, a few people who are smart and willing to hustle and some basic marketing tactics."
Drawing on her experience with companies large and small, Newton particularly understands how entrepreneurs, like makers — with their scrappy sensibility and test-and-learn approach, coupled with growth-hacking capabilities — can seize and capitalize on opportunities quickly.
The Kauffman Founders School Live event, held during Maker Faire: Kansas City, is open to the public and will take place on the Keynote Stage inside Kansas City's historic Union Station, located at 30 W. Pershing Road. For makers not able to travel to the Kansas City Faire, the Kauffman Founders School Live event will be live streamed online at http://www.entrepreneurship.org/Founders-School/LIVE.aspx.
This is the fourth year of Maker Faire: Kansas City, a weekend show-and-tell festival celebrating innovation, invention and creativity. It will feature more than 350 booths showcasing creations and innovations in the areas of technology, robotics, electronics, pyrotechnics, engineering, printmaking, art and craft making, and custom cars and bikes. Join the conversation at #makerfairekc.
Kauffman Founders School is an online educational resource dedicated to entrepreneurship. Its expert lectures and rich curriculum — giving individuals the skills and tools to build the next big thing — enables entrepreneurs to learn anywhere, anytime. Visit http://www.kauffmanfoundersschool.org for more information.
About the Kauffman Foundation
The Ewing Marion Kauffman Foundation is a private, nonpartisan foundation that aims to foster economic independence by advancing educational achievement and entrepreneurial success. Founded by late entrepreneur and philanthropist Ewing Marion Kauffman, the Foundation is based in Kansas City, Mo., and has approximately $2 billion in assets. For more information, visit http://www.kauffman.org, and follow the Foundation on twitter.com/kauffmanfdn and facebook.com/kauffmanfdn.