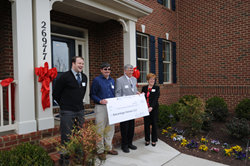 During the ten years I have enjoyed being employed with Advantage Homes, RWC has never had to pay a claim on our behalf
Germantown, MD (PRWEB) June 17, 2014
Advantage Homes, LLC was recently presented with an Award of Distinction by the Residential Warranty Company, LLC (RWC) for completing 10 years as a member.
"During the ten years I have enjoyed being employed with Advantage Homes, RWC has never had to pay a claim on our behalf," said Rick Centra, president of the Germantown, MD homebuilding company. The award was accepted on behalf of Advantage Homes' Service & Warranty Director Charles Kaiser. Centra was quick to add, "Charlie is likely the best service and warranty director I have worked with during my thirty years in the business."
The award was earned as a result of exemplary building practices and superior custom service, according to a statement from RWC's Vice President of Sales, Lynn Nelson-Probst. "RWC members are part of an elite group. Each member is screened annually for financial stability, ethical customer service and quality workmanship. Advantage Homes has continually exceeded these criteria since becoming a member."
Multiple factors were considered prior to Advantage Homes winning this prestigious award: the quantity of homes enrolled in the RWC warranty program; stability; longevity as a member of this exclusive program as well as overall customer satisfaction. Advantage Homes has enrolled 980 homes in the program during the past 10 years. RWC has issued more than 3 million home warranties in three decades of existence.
Advantage Homes, LLC has communities in Frederick County, MD (Brunswick Crossing in Brunswick) and Loudoun County, VA (Melody Farms in Chantilly).
To learn more about Advantage Homes including the communities and models offered, visit online at http://www.advantagehomesusa.com or call 703.753.2243 in Virginia or 301.834.7052 in Maryland.
Contact:
John Spare
1850 Dual Highway, Suite 110
Hagerstown, Maryland 21740
Phone: 301.416.7861
Toll Free: 800.932.0494
Fax: 301.665.9389
JSpare(at)power-marketing(dot)com
###