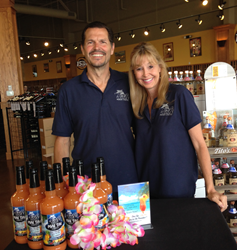 Our mix proves that convenience and a hand-crafted cocktail taste can co-exist.
Austin, Texas (PRWEB) June 18, 2014
Rocks Brands Intl., a craft cocktail company officially debuted with the cocktail classic, The Mai Tai. Created by husband and wife entrepreneurs Steve and Dawn Langerock, Rocks Mai Tai mix boasts a refreshing, flavorful taste profile that will send cocktail lovers on a sensory getaway to the islands.
"We set out to create a very high quality mix that was both convenient for the consumer and restaurant/bar server but also truly appealing from a taste and flavor point," said Dawn Langerock, Co-Founder, Rocks Brands Intl. "The Mai Tai is #16 of the top 100 requested drinks yet no one really makes it due to its complex recipe of 6-7 ingredients. Until now, the Mai Tai mixes on the market were really just flavors, no real juices and had an artificial taste. Other mixes contain about 10% fruit juice at most."
In addition to being 88% real fruit juice, Rocks Mai Tai mix contains 50% daily Vitamin C allowances, has no high fructose corn syrup, no artificial sweeteners and only 17 grams of sugar per 4 oz. glass compared to the average 26 grams with other mixes. "We started with craft cocktail ingredients and a vision to create 'paradise in a glass.' A product that we would be proud to call our own and that people buy over and over again," said Dawn. The craft approach resulted in a mix that blends well with not only rum (for a traditional Mai Tai), but also with vodka (as a Hawaiian martini), tequila (as an Island margarita), gin (as a Tahitian gin fizz), champagne (as a Tropical mimosa), and wine (as an Aloha sangria.) Within two weeks of their launch, Rocks Mai Tai mix was picked up by Twin Liquors Fine Wine & Spirits, a Texas-based major retail store with 75 locations statewide. Rocks Brands first cocktail mix to hit the market proves that convenience and craft can co-exist.
The founders, who reside in Austin, Texas, found their inspiration while vacationing in Tahiti years before. Upon their return to the U.S. the couple couldn't find good Mai Tais on cocktail menus nor good Mai Tai mixes in stores. Determined to do something about this void of high quality mixes in the market, the two set out to create a palette pleasing, bottled cocktail mix with a hand-crafted taste.
Rocks Brands Intl. is dedicated to bringing complex drinks to the marketplace without the complications. The multiple-ingredient mixology has already been done for the consumer and bartender. "We are already at work on our next mix, a Polynesian-style margarita," said Steve Langerock. "We have a line of craft cocktail mixes planned. Each will be a premium blend of real tropical fruit juices and we will always stay true to our brand of "A taste of the islands, right where you are!" With their mounting success in the retail liquor stores, Rocks Brands is now reaching into the restaurant space and helping bartenders and restaurant owners develop signature drinks using their mix.
Rocks Brands Intl. is an Austin, Texas based company that provides premium "Island-Inspired" cocktail mixes to retail stores, restaurants and bars. This family owned and operated business is dedicated to bringing to the marketplace cocktail mixes made with only the finest quality ingredients, ensuring a superior, hand-crafted taste every time. For more information on Rocks Brands Intl., please call 844-Mai-Tais or visit http://www.rocksmaitais.com.