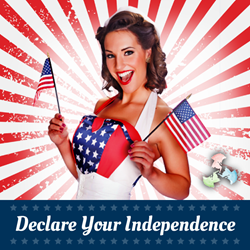 Declare your independence through a career in cosmetology
Upland, CA (PRWEB) June 17, 2014
Salon Success Academy, a California cosmetology school with five Inland Empire locations, is offering students who enroll for its July cosmetology course a $1,000 scholarship. The award is available to any new student who enrolls on or before July 7th and completes their program within the guidelines of their enrollment agreement.
Students can enroll in the cosmetology program at any of the Salon Success campuses in Upland, Corona, Redlands, San Bernardino, or Fontana. Named the Independence Day Scholarship, the award is the first of its kind in the school's 50-year history and urges potential students to "declare their independence" through a career in cosmetology. It is open to all new students who enroll by July 7th and will be awarded in the form of a $1,000 credit to the students' account upon completion of their programs. The scholarship is only available for the cosmetology course beginning on July 14, 2014 and space is limited. For more information or to arrange an admissions appointment, those interested can call 855-616-6730 or visit gotobeautyschool.com/independence?sce=pr.
Salon Success Academy has campuses in Corona, Fontana, Redlands, San Bernardino and Upland and students are taught through a combination of classroom instruction and hands-on training. The school has a high-end salon where students perform services on actual clients under the supervision of licensed cosmetologists. Students are also offered intensive instruction to prepare them for the California State Board of Cosmetology licensing exam.
About Salon Success Academy
Salon Success Academy has been training professionals in the beauty industry for more than 50 years. The school offers hands-on training in cosmetology and esthetics at its five locations throughout the Inland Empire of California in Redlands, Fontana, Upland, San Bernardino, and Corona. If you would like to learn more about training for a new career with Salon Success Academy, please fill out the form or call 877-987-HAIR (4247).