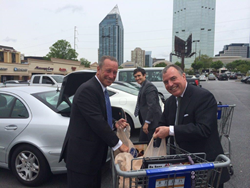 Atlanta, GA (PRWEB) June 16, 2014
The Atlanta office of international law firm Greenberg Traurig, LLP has been recognized for donating more than 65 tons of food to Georgia's food banks as part of the state's annual Georgia Legal Food Frenzy. The event featured participation by 270 firms in 47 cities over a two-week period and benefitted the Georgia Food Bank Association.
While the entire drive resulted in 1,140,000 pounds of donated goods to the state's food banks, Greenberg Traurig won two awards in the Large Firm Division for donating 606 pounds per person and a total of 130,344 pounds, or 65 tons. The firm also contributed more food donations than all other legal organizations in the state.
According to the Georgia Food Bank Association, more than 1.87 million Georgians – nearly one in five – are struggling with hunger, which is well above the national average. Additionally, 700,780 children live in "food insecure" households. Georgia's persistently high unemployment rate continues to drive record demand by individuals who have lost their jobs and are having problems making ends meet.
"Year after year, Georgia's legal community joins forces to ensure a significant impact is made on the lives of those in need, and each year Greenberg Traurig plays a major role in that effort," said Ted Blum, Co-Managing Shareholder of the Atlanta Office and Chair of the Atlanta Corporate & Securities Practice. "The passion for giving back is evident here in our Atlanta office, and we're proud to make philanthropy a priority in our everyday functions."
About Greenberg Traurig, LLP
Greenberg Traurig, LLP is an international, multi-practice law firm with approximately 1750 attorneys serving clients from 36 offices in the United States, Latin America, Europe, the Middle East and Asia Greenberg Traurig is among the Top 10 law firms on The National Law Journal's 2013 NLJ 350, an annual ranking of the largest firms in the U.S. For additional information, please visit http://www.gtlaw.com.