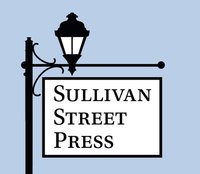 We're moving from town to town and spending time with friends old and new... There is nothing more inspiring to me as a writer than to hear people read from my novel and to watch them through the lens.
New York, New York (PRWEB) June 17, 2014
Sullivan Street Press, a NYC-based green book publisher, is hitting the road this July for their third annual event-filled road trip to promote the importance of their publishing mission--to create a more sustainable planet by building bridges to the people they meet on their route. With the titles the press now publishes, they hope to help build bridges for more conscious eating and to find experienced guidance for becoming an activist. In order to fulfill the press' original mission, to change the publishing paradigm, it has become important to change the way we think about our world.
The pair, Deborah Emin and Suzanne Pyrch, will depart on July 9 from NYC and travel for two months throughout the Mid-Atlantic States and Midwest, traveling as far west as the Black Hills in South Dakota before returning to NYC. While on the road, Emin and Pyrch will continue their Scags at 7 Video Project, a multimedia project where volunteers read 2-minute excerpts from the novel, Scags at 7. The video project, hosted on the Scags at 7 YouTube channel, currently has 37 installments from the previous trips.
"We're moving from town to town and spending time with friends old and new," said Emin. "It is wonderful to get out of the city and interact with a new demographic of people about the importance of environmental sustainability in the publishing industry and beyond that to our daily way of life. There is nothing more inspiring to me as a writer than to hear people read from my novel and to watch them through the lens."
Throughout the trip the pair will be meeting with local bookstores and networking with librarians to share with audiences the importance of sustainable publishing and living. Combined with the Scags at 7 Video Project, the pair is also scouting out locations to host a free film presentation of "A Fierce Green Fire." The pair will also be returning to Delaware Water Gap, PA to host a book reading at Zen Fusion.
Stops on the road trip include: a house party in New Paltz, NY; a marketing meeting in Woodstock, NY; filming more friends at the Adirondack Reader in Inlet, NY; a reading at Zen Fusion in Delaware Water Gap, PA; meetings with writers in Oberlin, OH; giving a reading at the new bookstore in Evanston, IL, Bookendings and Beginnings; visits with actors in Cedar Rapids, IA for the Scags at 7 Video Project; and then a long trek through South Dakota to camp and learn about a part of the country overrun with new oil leases. The return trip will include stops in Minneapolis, MN and Madison, WI to meet new people and to discover how the press can be a part of the book communities there. To follow the road trip and their planned stops, visit the Sullivan Street Press Facebook Page for continued updates.
"We are still confirming the final details of our schedule," explained Emin. "But, if you'd like us to create for you a very different type of literary event in your home, library, bookstore or gallery, coffee shop, ask us to stop by and share our projects with you. Getting more people involved in helping us to spread the mission we are embarked on is why we get on the road for this length of time every summer."
Sullivan Street Press has always seen itself as having two missions: to change the publishing paradigm and to publish the books needed now to help make all the changes this planet needs to survive. The yearly road trips are integral to accomplishing both of these missions.
About SULLIVAN STREET PRESS:
Founded 4 years ago, Sullivan Street Press entered the e-publishing domain to change the publishing paradigm. It recognized that for both financial and environmental reasons it was necessary to advocate for the rise of the e-book and the technology that makes all things digital possible. Responding to readers' concerns, many of whom aren't yet ready to commit to the e-book revolution, SSP is now having its books distributed s e-books from Kobo.com and in paperback format through all independent bookstores as well as Amazon.com. In furtherance of the digital side of its publishing mission, the Scags Series is also available as in iPad app, powered by MAZ Digital. For more information on all the various ways in which Sullivan Street Press is setting out to use its tools as a book publisher to keep this planet alive, visit its 100% carbon neutral website: http://www.sullivanstpress.com.
About Deborah Emin:
Deborah Emin began Sullivan Street Press in order to publish books that needed a home that other publishers would not take a risk on. Then realizing that there were lots of ways for writers to get their books published now, she changed the focus of the press to putting together a publishing program that addresses the needs we all have right now to learn to change our lives, to work together. Her 4-part Scags Series (with Scags at 30, the third volume due out this winter) is her contribution to the process of change by fictionalizing the awakening process that women go through as they discover their power in this world and what they are meant to do with it.