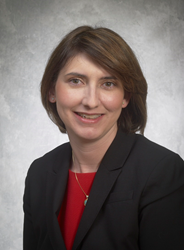 There is a burgeoning virtual network of women lawyers, and it's more powerful than the network at any golf course or 'gentleman's club.'
PHILADELPHIA (PRWEB) June 17, 2014
Chamberlain Hrdlicka shareholder Elizabeth Fenton recently chaired a CLE panel discussion, "Lean In For Lawyers," at the annual conference of the Section for Litigation of the American Bar Association. Held in Scottsdale, Arizona, in April 2014, the CLE session facilitated discussion of a topic about which Fenton, a business attorney in the Philadelphia office of Chamberlain, Hrdlicka, White, Williams & Aughtry, is passionate.
After 16 years in the legal industry, Fenton knows the working environment is improving for women in law. When she joined her first law firm in 2000 after clerking for a judge, there were no women litigation partners. There are now, Fenton said recently during a roundtable discussion on Women in the Profession, hosted by The Legal Intelligencer.
She is keenly aware, however, of the challenges that continue to face women seeking equal footing in the legal profession. Two-thirds of the women in the legal workplace are staff attorneys, but women comprise only 17 percent of the equity partners among firms that participated in a survey published by the National Association of Women Lawyers in February 2014.
Statistics like those are what prompted Fenton to write "Lean In For Lawyers," an essay inspired by the best-selling 2013 book on women's workplace empowerment by Sheryl Sandberg, the Chief Operating Officer of Facebook.
Fenton believes the business conditions in law are changing in favor of women – most notably through increased demand by clients for legal teams with more diverse backgrounds – and that women attorneys have greater collective professional influence than ever before.
Fenton herself writes that as she approached midlife, she found herself negotiating a series of life choices unique to women in the legal profession, and not just those revolving around motherhood, a topic upon which many conversations about the lives of professional women tend to focus. Fenton found valuable guidance by carefully observing and seeking advice from other women attorneys of all ages, not just those who were senior to her.
"There is a burgeoning virtual network of women lawyers, and it's more powerful than the network at any golf course or 'gentleman's club,'" Fenton writes.
Sandberg's book wasn't aimed at lawyers, but Fenton believes many of its key messages apply to any woman who aspires to advance in a legal career.
From offering advice on which chair one selects when sitting at the negotiating table – where the wrong choice can cause women attorneys to "abdicate power" – to helping them capitalize upon their emotional intelligence to build more robust professional relationships, Fenton has "leaned in" to the task of supporting the success of all women in the legal profession.
About Chamberlain Hrdlicka – Chamberlain Hrdlicka is a diversified business law firm with offices in Houston, Atlanta, Philadelphia, Denver and San Antonio. The firm represents both public and private companies as well as individuals and family-owned businesses across the nation. In addition to tax planning and tax controversy, the firm offers corporate, securities and finance, employment law and employee benefits, energy law, estate planning and administration, intellectual property, international and immigration law, commercial and business litigation, real estate and construction law.