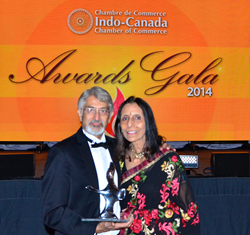 I humbly accept this award on behalf of the children of Africa, who simply ask for the basic necessities of life we, as North Americans, so often take for granted. - Kish Modha
Winnipeg, Manitoba (PRWEB) June 18, 2014
President of Mondetta Charity Foundation (MCF), Kish Modha, was awarded Humanitarian of the Year from the Indo-Canadian Chamber of Commerce at at their annual gala in Toronto this past weekend.
We are thrilled that Kish's hard work was recognized at this prestigious event. As a founding member of MCF, Kish has tirelessly striven to relieve suffering and poverty in his birth country of Uganda, as well as neighbouring Kenya, where he grew up. Since acquiring charitable status in 2006, MCF has made invaluable contributions at Kamwokya Primary School in Kampala, Uganda, including the construction of a new library and kitchen, a playground structure and a feeding program that has served over two million meals to date.
Presently, MCF is financing the construction of nine additional classrooms to accommodate the ever-growing student body, and is also beginning a water harvesting and filtration project that will allow the students access to clean and potable water. MCF also continues to support the New Life Home Trust in Lamu, Kenya, which provides food, medication, care and nourishment to orphaned or abandoned newborns.
"Organization-wide, we are exceedingly proud of the many accomplishments Kish has achieved at both Kamwokya Primary School and at the orphanage in Lamu. His award is well-warranted and celebrates the passion he has for making a difference in the lives of so many," Ash Modha, President and CEO of Mondetta Clothing Company said when asked to comment on the news.