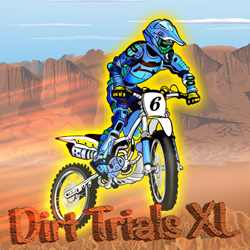 With over 7,000,000 player installs to date, we are looking forward to making more fun games that can entertain our users. And Heyalda is excited to bring the games we have published on the Apple App store to Android users.
Chicago, IL (PRWEB) June 17, 2014
Heyalda's motocross, enduro and motorbike free-riding inspired racing game, Dirt Trials XL is now available on the Google Play Store at https://play.google.com/store/apps/details?id=com.heyalda.dirtTrialsXL. This version includes 30 race tracks and is free.
Dirt Trials XL is a combination of motocross dirt bike racing, enduro racing, and motorbike free riding. The game enables players to experience the fun that professional motocross racers feel when they head out to a sand dune for an afternoon of free riding and racing with their friends. Enduro-cross obstacles challenge the player to get to the finish line and the timed racing with motocross style jumps brings it all together into a unique player experience.
This latest version of the Dirt Trials series of games from Heyalda is made for Android devices and is packed full of hours of fun. Players race across desert sand dunes over 30 unique tracks to achieve the best track times possible while unlocking achievements for accomplishing various feats.
Each time a player races a track the complete race is recorded. The best two race times for each track are saved for playback as computer racers. The player can then race against their previous best two races on each track to attempt to outdo their personal best track time.
Google Play Game Services Leader Boards enable players to compete globally against other players and friends to see who can achieve the best track time on each of the 30 included racetracks.
Dirt Trials XL is based on Heyalda's Dirt Trials 2012 that has seen nearly 1,000,000 user installs on the Apple App Store. Players have been asking for this game to be made available on Android, and today Heyalda has delivered.
Heyalda Corporation was founded in 2009 with the purpose of creating mobile device video game and multimedia products that provide exceptional user experiences. At the core of Heyalda Corporation is the idea that great games and multimedia experiences are created when all the right ingredients are melded together just right. Heyalda is passionate about understanding the science and art-form behind creating great experiences, weather that be the experience of the player of the game or the maker of the game. Heyalda is always seeking to learn and improve. Copyright (C) 2009-2014 Heyalda Corporation. All Rights Reserved. Google Play and Android are registered trademarks of Google Inc. Apple, the Apple logo, iPhone, iPod and iPad are registered trademarks of Apple Inc. in the U.S. and/or other countries.