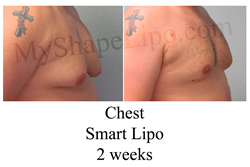 Men are surprisingly very open to getting liposuction to reduce their belly.
Las Vegas, NV (PRWEB) June 23, 2014
Once taboo in our society, liposuction is now on the rise amongst men looking to improve their shape. With increased media coverage, improved techniques, better results and affordable prices, liposuction in general has been gaining popularity in the United States. ASAPS reports that nearly 20% of all liposuction procedures are performed on men.
MyShape Lipo, a specialty liposuction clinic located in Las Vegas, NV has observed that 36% of their liposuction patients are men. That number is up 24% from 2013. The most common areas treated for men include the abdomen, chest and chin.
"Men are surprisingly very open to getting liposuction to reduce their belly," say Trevor Schmidt PA-C, the Liposuction Specialist at MyShape Lipo. "They still tend to keep the procedure a secret from their friends, but that is slowly changing as well."
Steve Hall, a 46-year-old patient of MyShape Lipo, flew into Las Vegas from Canada for his treatment. He says, "Liposuction is awesome; I've worked out so hard for years and couldn't lose my belly. I lose weight, but the belly stays the same. It's been 3 months now and I love my results."
The abdomen is by far the most common area treated with liposuction for men. A close second is the male chest treating gynecomastia or man boobs. Most men that decide to undergo a liposuction procedure have failed traditional diet and exercise and have been unable to reach their health and fitness goals. Liposuction can give these men a substantial kickstart to motivate them in their path to look and feel better about themselves.
With more male celebrities speaking up about their cosmetic procedures, it seems to be much more socially acceptable for men to consider liposuction as well as other cosmetic procedures. In addition, there have been substantial improvements to liposuction technique which have yielded more consistent results. Of course, more affordable rates have inevitably contributed to the rise in demand.
Many men find that as they age, they simply don't have the time to exercise as much as is needed to achieve their goals. Since liposuction can permanently remove fat, they get a significant jumpstart to a better body and a shape that is much easier to maintain with simple diet and exercise. Liposuction should not replace diet and exercise. For the best results after liposuction, it's recommended to continue with a sustainable diet and exercise program.
About MyShape Lipo
A specialty liposuction clinic located in Las Vegas caters to patients from around the globe, who fly in for their extensive experience of over 15,000 liposuction procedures. Trevor Schmidt PA-C, the liposuction specialist and owner of MyShape Lipo offers complimentary "Body Shape Analysis" both in person or over the phone. Call today to claim a complimentary "Body Shape Analysis." 702-818-5476.