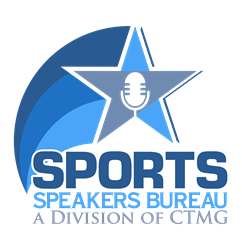 New York, New York (PRWEB) June 18, 2014
Celebrity Talent Marketing Group, a premier celebrity talent booking agency, has recently announced the launch of their new division and subsequent website to extend their already vast booking space to include today's top current and former sports stars. Sports Speakers Bureau is the third speakers bureau division established by CTMG, in addition to Celebrity Speakers Bureau and Celebrity Chef Network, to help connect companies with the perfect celebrity talent for their chosen corporate event or trade show.
The new Sports Speakers Bureau website went live at the end of May and features a simple user interface with drop down menus and a robust database complete with over 20 categories full of today's past and present sports heroes for hire. Unlike most speakers bureau sites, Sports Speakers Bureau showcases the social media scores of the listed sports stars and also compiles a list of the Trending 10 athletes making headlines each week. The home page highlights this weekly Top 10 list of trending sports speakers as well as company case studies on some of the athletes they have orchestrated endorsement deals with including Hall of Fame baseball player Cal Ripken Jr. and surfing phenom Anastasia Ashley.
In today's market for booking celebrity talent, most companies have minimal to no exposure on how to vet, negotiate and utilize a celebrity or sports star to create maximum return on investment. CTMG and its executives have the resources and over 30 years of business experience and industry knowledge that now allow them to act as experts who offer a simplified, step-by-step process to securing celebrity talent for any event or endorsement deal. Sports stars have been a center piece in major marketing and advertisement campaigns for decades and the company is prepared to extend its previous success in the entertainment celebrity and celebrity chef booking space to that of popular athletes.
CTMG and its 3 speakers bureaus have the ability to intricately tailor its campaigns to the needs and budget constraints of the client while still delivering the perfect talent for the event. From Fortune 500 all the way down to Inc. 5 companies and small businesses, Sports Speakers Bureau will deliver the same level of experience and execution across the board to secure the perfect athlete, Hall of Famer, MVP or rising sports star for the corporate client.
About Celebrity Talent Marketing Group
CTMG and its executives have over 30 years of business experience while working with the nation's top PR agencies and a number of today's industry leading companies including Microsoft, Nike, and Coca-Cola. CTMG's proprietary database provides our clients with instant access to thousands of celebrities including current icons and legends of the past in every genre. Contact us at 888-257-6807 or info(at)sports-speakers-bureau(dot)com for more information on how to book a sports star for your next event or trade show.