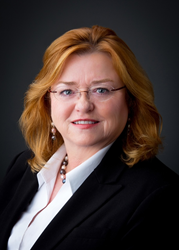 Annette ensures that women play key roles in working on large and impactful projects.
Eagan, MN (PRWEB) June 18, 2014
MEA and Energetic Women are proud to announce that Annette Gardiner, President, New Mexico Gas Company receives the 2014 Maverick Award. The Maverick Award gives special recognition to leaders who have set the standard in promoting, connecting and strengthening female leaders in energy operations and engineering. The Maverick Award is presented annually to a man or women who actively participates in the advancement of women in leadership, who knows an organization is stronger with a diverse leadership team, who believes in the empowerment of women, who understands the importance of recognition and opportunities for women, who advocates for the professional advancement of women, and who acknowledges the full talents, capabilities, and organizational benefits of women in energy operations and engineering. This year, we received an all-time high of 17 different nominations.
Annette has said on many occasions that the key to her effective leadership style is surrounding herself with loyal people she can trust. Her clear expectation that New Mexico Gas Company leaders conduct themselves with integrity filters down through every level of the workforce.
As it stands today, leadership in operations and engineering is largely male. Annette has built a common understanding with the leadership team to ensure that women play key roles in working on large and impactful projects, such as replacing pipe or rewriting the Operations and Maintenance manual. Annette's philosophy is that women won't be prepared for operational promotions in the future if they are not in a position to make meaningful contributions in the present.
Annette's Mentoring Efforts
Benjamin Franklin once said, "Tell me and I forget, teach me and I may remember, involve me and I learn." Annette's approaches to mentorship exemplify Franklin's words. Her relaxed mentoring efforts, both individually and in groups, are through conversation, problem solving, example sharing, and offering different perspectives.
One tool that Annette uses to motivate women to excel and grow into valued leaders is by giving them significant projects that are core to the enterprise. By sharing her experience and knowledge with other women, Annette demonstrates and affirms that it is possible to be a respected, competent, and efficient leader in a non-traditional leadership role.
Annette's Advocacy Efforts
Annette is a well-established leader in the energy industry, who is the ultimate champion of Energetic Women; promoting Energetic Women by providing her voice to inspire integrity, equality, and leadership in the workplace.
Annette has encouraged leadership growth and development of women in her organization by creating a network of influence. She activates the passion in her women leaders by promoting and supporting women to attend conferences and training and then to share their knowledge with other women in the organization, insisting that knowledge is power to leverage successful advancement.
Annette's accomplishments as a leader have helped to engineer the steady progress for women in the energy industry.
To learn more visit http://www.energeticwomen.org.
About Energetic Women:
Energetic Women's mission is to increase the pool of promotable women in Energy Operations and Engineering. They encourage leadership growth and development, through mentorship and supportive programs. Energetic Women is a service of MEA.
About MEA:
MEA serves the people that delivery electricity and natural gas to homes and businesses. MEA (Midwest ENERGY Association) was founded as a trade association over 100 years ago by distribution utilities, whose vision was to improve safety and efficiency. Today, utility companies around the globe benefit from MEA's industry learning seminars, operations summits, and other events. Members collaborated to develop EnergyU, the world's premier online training and testing system for gas and electric distribution utilities.