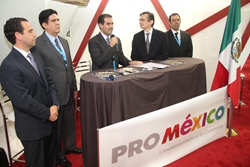 Tijuana, Mexico (PRWEB) June 17, 2014
Mexico´s Pavilion will be in the eye of many aerospace companies looking to grow in emerging countries. During the last decades the country´s Aerospace industry has been getting international attention driven by its steady growth in the range of 20 percent annually, and it's competitive manufacturing platform to serve the America's.
Mexico´s federal promotion agency will showcase the different regions that specialize in Aerospace Industry, of which Baja California stands out for holding the largest aerospace cluster comprised by 65 companies and represents 29% of country exports.
Baja California State´s delegation is preparing 30 matchmaking meetings with industry representatives, economic development corporations, and government officials showcasing business opportunities, and promoting trade missions to its annual supplier forum for late 2014.
Tijuana´s delegation is ready for take-off. Enrique Esparza, Chairman of the Tijuana EDC commented "There is no better place to meet with top decision makers and explain why Tijuana is the best location to serve the US Market".
Aerospace and Defense is one of Tijuana´s strongest industries, well-supported by the City´s 40 years of experience in aerospace manufacturing, world-class quality operations, and a vast talent pool of engineering and technicians.
There´s a strong linkage between aerospace industry and universities to develop aerospace engineering and technician talent according to the sector´s needs: Baja California's State University (UABC) Center for Aerospace and Engineering Technology, has one of the best equipped composites laboratories, built in collaboration with Honeywell Aerospace. CETYS University, certified by the Western Association of Schools and Colleges (WASC), offers an engineering program with minor on Aerospace and a Master's in Aerospace Engineering. The Technical University of Tijuana (UTT) offers a Product Lifecycle Management Lab, features cutting-edge software that allows controlling the product manufacturing process virtually, from its conception to industrial design, testing, manufacturing, delivery to the customer, and after-service.
At the technical level, UTT has developed a mechatronics engineering program as well as two professional technician licenses in mechatronics and aerospace harness manufacturing, customized to the local industry needs.
The region is planned to be the country´s next aerospace talent hub and exporter of high-value knowledge services, according to Promexico´s Aerospace Roadmap. And Tijuana is preparing the way accordingly.
About Tijuana EDC:
Founded in 1989, the non-profit Tijuana Economic Development Corporation (DEITAC as its acronym in Spanish) has been dedicated to helping companies of all types take advantage of the benefits found in the Tijuana- San Diego region. With over 130 private-sector members from both sides of the border who are experts in areas like industrial development, construction, law, accounting, custom brokerage and logistics, maquiladora/shelter services and more, the Tijuana EDC can help your company map out a new path to profits and competitiveness.