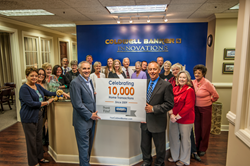 We have an incredible team of hard-working real-estate agents in Hagerstown and in Frederick who have learned how to make the real estate experience fun, and that's exactly what we're striving to do.
Hagerstown, Maryland (PRWEB) June 17, 2014
Coldwell Banker Innovations is proud to announce they have exceeded 10,000 home transactions since founders Clarence Horst and Brian Flook partnered to purchase the company in 2009.
"Reaching such a significant milestone is certainly a worthy achievement," said Budge Huskey, president and CEO of Coldwell Banker Real Estate LLC. "Clarence and Brian have done a remarkable job building such a successful firm and clearly provide their sales associates with the capability to provide outstanding resources to their clients. Buyers and sellers will only work with companies and agents they know provide outstanding value and clearly they have voted a resounding 'Yes' to Coldwell Banker Innovations."
When they purchased the Coldwell Banker Innovations franchise, their plan was to use Mr. Horst's expertise in real estate and Mr. Flook's experience in marketing to create a team that could provide the quad-state area with comprehensive, qualified and professional real estate specialists and services.
Five years later, achieving 10,000 home transactions is a huge milestone in the company's development. The ongoing success is made evident by a recent award from Coldwell Banker for being recognized as the number one independently-owned Coldwell Banker company in Maryland, based on company revenue, for the fifth year in a row. Currently, they have offices in Hagerstown and Frederick as well as a new café-style office scheduled to open in Greencastle, Pennsylvania this summer.
Clarence Horst, Co-Owner says, "We went into this business venture as two men whose combined skills we hoped could create an amazing real estate experience for the people in the quad-state community. Now, five years later, we're realizing exactly how true that vision really is. We have an incredible team of hard-working real-estate agents in Hagerstown and in Frederick who have learned how to make the real estate experience fun, and that's exactly what we're striving to do."
Contact Information:
Coldwell Banker Innovations
Brian Flook
1850 Dual Highway
Hagerstown, MD
Phone: 301.416.7861
Bflook(at)yourcoldwellbanker(dot)com