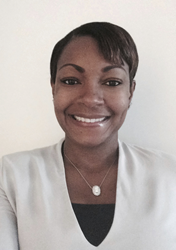 Frederick, MD (PRWEB) June 18, 2014
Matan Companies is pleased to announce that they have recently hired Shellome Walters as a Property Manager for their Frederick portfolio. As Property Manager she is responsible for managing both office and industrial buildings, while maintaining the assets of the owner, and providing the tenants with the very best customer service possible.
Shellome comes to Matan from Washington Real Estate Investment Trust, where she was a Property Assistant Manager. She holds a Facility Manager Designation from the International Facilities Management Association (IFMA) and is close to receiving her Real Property Administrator Designation from BOMI International. She also holds an Associate's Degree in Business Administration from America Intercontinental University and has future plans to finish her Bachelors Degree from UMUC with a minor in Human Resources Management. Shellome is a veteran of the United States Armed Forces and she just recently completed her term as a Commissioner on the Frederick County Commission for Women Board. She has since been granted to serve a new three-year term by the Frederick County Commissioners.
"Shelly has the knowledge, talent, and personality that fits our positive atmosphere here," says Arthur Andreassi, Director of Property Management for Matan. "She will be a great addition to our team."
About Matan Companies
Matan Companies, headquartered in Suburban Maryland, is one of the region's premier commercial real estate services and development firms. Founded over 35 years ago on the principle of providing a comprehensive, full service approach, the firm's current portfolio consists of over 4.5 million square feet of office/industrial assets, 3 million square feet in the development pipeline, several active residential developments, and a separate portfolio of multifamily units. The company delivers a full range of services to their real estate investors and tenants including asset and property management, leasing, and tenant services. For the latest news from Matan Companies please visit http://www.mataninc.com.