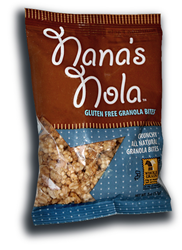 Oneonta, NY (PRWEB) June 17, 2014
There's no denying it. Americans love to snack and unfortunately many of the snacks that we love so much – chips, popcorn, cookies are anything but healthy. The result of overindulging on these snacks are the ever growing waistlines they leave behind. With today's busy consumer lifestyles, healthy snacking is imperative to healthy eating and thanks to Nana's Nola; consumers now have a snacking option that is a whole lot tastier and healthier.
Nana's Nola's crunchy snack bites offer consumers and Celiac's an organic, gluten-free granola snack that packs a powerhouse of multiple organic whole grains, all natural organic sweeteners, two grams of both protein and fiber. Nana's Nola contains no soy, artificial additives or preservatives. And the best part, consumers will immediately experience the incredible taste and crunchy sensation of Nana's Nola snack bites.
"Offering today's busy consumers a healthy snack option is essential to providing good nutrition as well as supporting healthier eating habits," said Marie Lusins, founder of Nana's Nola. "We care very deeply in helping consumers of all ages live a healthier lifestyle and we can do that by offering them with my Nana's Nola."
Nana's Nola is off to a roaring start as bags of Nana's Nola will soon be hitting the shelves in 80 Mirabito Convenience Stores located in the southern tier in New York state and throughout Pennsylvania. Nana's Nola's crunchy granola snack bites are available in two ounce grab and go bags that can be easily enjoyed while driving, thrown into backpacks, lunch boxes or travel bags.
Nana's Nola is being launched by long-time Oneonta, New York resident Marie Lusins, a former New York State recipient of the "Women of Distinction" award in 2010. Furthermore, Marie has served in public office and on numerous public and not for profit boards and currently serves on the Otsego County Board for the Office of the Aging.
About Us:
Nana's Nola™ is located in Oneonta, New York and produces a premium organic, gluten-free granola that is superior in taste and made with the highest quality ingredients. Nana's Nola is a "Healthy Snack" alternative to traditional snacks without sacrificing on taste. Nana's Nola provides both the Celiac Community and health conscious consumers with a healthier lifestyle choice. Nana's Nola's granola is produced under strict Good Manufacturing Practices (GMP) in an isolated HEPA filtered "Clean Room" environment where extensive procedures are followed to make sure that no gluten is present in our finished products. Nana's Nola is available in 2 oz. grab & go bags for Convenience Stores, Drug Stores, Independent Supermarkets and Gourmet Food Stores. For more information about Nana's Nola, contact Marie Lusins, President at 1-888-224-2132 or e-mail her at nanasnola(at)gmail(dot)com.