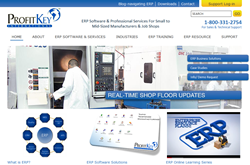 Boston, Massachusetts (PRWEB) June 18, 2014
ProfitKey International, a manufacturing ERP software specialist announced today the launch of their new website hosted at http://www.ProfitKey.com . The site is dedicated to SMB (small to mid-sized business) manufacturers and job shops to help educate the industry on how to improve overall business process, cost reduction and profit growth, and also hosts an assortment of free whitepapers, a video learning library, and other education tools to assist in the growth of manufacturing.
Manufacturing is a busy and rapidly changing environment. ProfitKey's President and CEO, Joe Di Zazzo, kept that in mind. "We realize that ERP is not a simple solution, but we are dedicated to making it that way for our users. The new website makes it easy to learn and understand the basic concepts and the immense benefits a fully-integrated system can provide, without spending hours of personal research or having to hire an expert or consultant," stated Mr. Di Zazzo. "It also provides a much more fluent end-user experience for existing customers."
The new website is on a modern template with the latest in design, navigation, and overall functionality. "The goal for the new website was simple," stated Jason Rourke, Director of Marketing for ProfitKey, "Our focus was to provide a unique experience and deliver a set of tools that would be educational and easy to understand for those who are unfamiliar, or new, to the concept of ERP, yet still providing valuable content for those who are seasoned in the industry." The new ProfitKey website also features a series of fact sheets on each area of the system, providing an in-depth overview for those seeking out specific information for their particular needs. Short training and overview videos will also be featured soon. As always, you can always register for free webinars and demonstrations right through the new site.
Visit the http://www.ProfitKey.com home page to watch ProfitKey's new animated video "What is ERP?", download white papers, sign-up for a free demonstration, and more.
About ProfitKey
For more than 30 years, ProfitKey International has been a provider of manufacturing planning, manufacturing operations, and financial management software for small to midsize manufacturers and job shops , helping to increase overall efficiency in the areas of shop floor scheduling, communications, inventory management, labor reporting, cost tracking, and more. Through the use of a real-time and fully-integrated enterprise resource planning (ERP) manufacturing software, ProfitKey has been able to help thousands of small to mid-sized precision manufacturers grow over the last four decades.
ProfitKey Customers Include:

Top U.S. Aerospace & Defense companies
Electronic & high tech manufacturers
Medical Device manufacturers
Automotive suppliers
Metal Fabricators
Customer base expands throughout North America & the UK
ProfitKey Customers Benefit By:

Increasing On-time delivery above 95%
Reducing carried inventory by 25% or more
Improving cash flow due to time phased purchasing of materials
Improving inventory accuracy
Improving supplier rating due to integrated Quality Management system