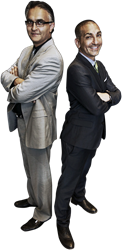 'Being in Southern California, people here are especially concerned about being thin,' said Dr. Mamaly Reshad. 'They can hide their eating disorder from a lot of people, but they can't hide it from their dentist.'
Woodland Hills, CA (PRWEB) June 24, 2014
Two of Woodland Hills' top cosmetic dentists are offering parents, loved ones, friends and other dentists warning signs if they suspect someone may have bulimia.
"Bulimia is an eating disorder in which a person eats and then purges," according to Dr. Saj Jivraj, founder of the Anacapa Dental Art Institute. "It can have serious consequences on a person's teeth due to lack of nutritional intake and repeated exposure to stomach acid."
Twenty million women and 10 million men in the United States have a clinically significant eating disorder, including bulimia, binge eating disorder, and anorexia sometime in their life, according to the National Eating Disorders Association.
"Being in Southern California, people here are especially concerned about being thin," said Dr. Mamaly Reshad, Dr. Jivraj's partner at the Anacapa Dental Art Institute. "They can hide their eating disorder from a lot of people, but they can't hide it from their dentist."
Dr. Jivraj and Dr. Reshad offer these tips to observe if you suspect someone you care about may have bulimia:
1. Very smooth enamel on teeth. Teeth will be missing stains or lines. Back teeth may have little biting surface. These signs may take two years to show themselves.
2. Teeth sensitivity. With less enamel and dentin, teeth nerves are less sheltered and become more easily bothered.
3. Filed-down, sharp-looking teeth. This is caused by stomach acid erosion.
4. Parotid gland swelling. This salivary gland sits at the back of the jaw in front of the ear and becomes enlarged from regular and severe vomiting.
5. Dry mouth. Saliva can be decreased due to dehydration caused by laxatives, diuretics, fasting, and vomiting. This also can affect gum tissue.
Dr. Jivraj and Dr. Reshad urge other dentists to establish protocols to look for signs of eating disorders. They encourage their fellow practitioners to bring the symptoms to the patient's attention and ask non-accusatory questions.
Dr. Jivraj and Dr. Reshad also want to encourage those who have damaged their teeth due to an eating disorder that all is not lost, and that they can regain a healthy, beautiful smile.
Dr. Jivraj and Dr. Reshad are both award-winning prosthodontists, which make up only 2 percent of all dentists in the world who specialize in implant, cosmetic, and reconstructive dentistry. Each is a former chairman of the University of Southern California School of Dentistry's Fixed Prosthodontics and Operative Dentistry section, and both are international lecturers and published authors.
Dr. Jivraj earned his degree at the University of Manchester in his native England. He received advanced prosthodontic training at the USC School of Dentistry. He has published numerous articles on aesthetic and implant dentistry in peer reviewed journals, and has presented on implant dentistry and advanced prosthodontic procedures nationally and internationally.
Dr. Jivraj is co-author of the textbook, "Treatment Planning in Implant Dentistry," which is used around the world. He is on the editorial board of the highly prestigious Journal of Esthetic and Restorative Dentistry, ad hoc reviewer for the Journal of Prosthetic Dentistry, and is associate clinical editor for Dental Teamwork magazine.
He currently holds a faculty position as an associate clinical professor at the USC School of Dentistry, clinical teacher at the Eastman Dental Institute in London, and is on the board of directors for the British Academy of Restorative Dentistry.
Jivraj was voted "Best of USA" by his peers in 2008.
Dr. Reshad trained at Kings College Dental School followed by the Eastman Dental Institute in London.
Dr. Reshad is an internationally-known prosthodontist who has been published in numerous peer-reviewed journals and textbooks on various topics related to prosthodontics, aesthetics, and implant dentistry.
Dr. Reshad is on the editorial board for the Journal of Esthetic and Restorative Dentistry. He is an honorary clinical teacher at the Eastman Dental Institute and a member of the faculty of the Global Institute for Dental Education.
The Anacapa Dental Art Institute has been offering quality dental care treatments since 1996. The team specializes in implant, prosthodontic, cosmetic, and restorative dentistry. It also offers gentle dental care treatments for patients aged 50 and above.
The Anacapa Dental Art Institute has two new state-of-the-art training and dental offices: one in Oxnard and the other in Woodland Hills, Calif.
The Oxnard location, at 2821 North Ventura Road, Bldg H, has 3,600 square feet encompassing six treatment rooms, an in-house dental lab, and a state-of-the-art teaching center.
The on-site teaching center includes a high-tech suite where dentists can observe patient treatments. Courses have been arranged for dentists from China, Japan, India, and South America.
The Woodland Hills office, at 6325 Topanga Canyon Boulevard, No. 513, is 1,500 square feet and features an in-house dental lab catering to patients in and around Los Angeles.
The Anacapa Dental Art Institute has a staff of 11, which includes the two prosthodontists, a root canal specialist, a general dentist, two hygienists, three dental assistants, and two receptionists.
The Anacapa Dental Art Institute provides the following procedures in Oxnard and Woodland Hills, which are in Ventura County:
● All on Four (All on 4) dental implants
● All on Six (All on 6) dental implants
● Mini dental implants
● Teeth in a Day
● Teeth in an Hour
● Full mouth reconstruction
● Teeth whitening
● Invisalign teeth straightening
● Sedation dentistry
● Cosmetic dentures ("facelift")
Those looking for an Oxnard dentist or Woodland Hills cosmetic dentistry services can get more information about Dr. Jivraj and Dr. Reshad at Dentalimplantsventura.com.