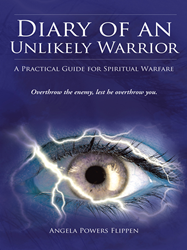 This book deals with the part of Jesus and his ministry that no one wants to talk about; casting out demons.
Russellville, KY (PRWEB) June 17, 2014
"There are more things in heaven and earth, Horatio, than are dreamt of in your philosophy."
So says Hamlet to his friend, insisting that there are things about the world we live in that are not only stranger than we do know, but also stranger than we can know.
Angela Flippen reinforces this thought with her surprising story. Titled "Diary of an Unlikely Warrior," she explains how she is able to see and cast demons out of people who are being spiritually terrorized. Co-pastor of Way of Life Ministries, Flippen has the honorable yet troubling gift of being able to detect demons.
"You can fill the sea with the things I do not know or understand, but one thing I do know is deliverance and warfare," Flippen said.
Flippen did not ask for this gift. She has no involvement in occult activities and has never sought out evil other than to vanquish it, in service to God.
"This book deals with the part of Jesus and his ministry that no one wants to talk about, casting out demons," Flippen said.
In the book, Flippen names and exposes the demons that are currently clinging to the world, weighing down our spiritual health. She describes the practices of false churches that leave people feeling empty at best – and at worst; spiritually derelict. Flippen shows how dealing with the evil in one's life can leave them free to bring themselves closer to God.
For more information, visit http://www.diaryofanunlikelywarrior.com.
"Diary of an Unlikely Warrior"
By Angela Flippen
ISBN: 978-1-4908-0116-2
Available in softcover, hardcover, e-book
Available on Amazon, Barnes & Noble and WestBow Press
About the author
Angela Flippen is co-pastor at Way of Life Ministries after being called to serve the church at 24 years old. Her book is meant to be a warning against corruption and falsity that plagues the world – even churches – and to warn and inform individuals about demons and how to rid these negative spirits from their lives. She lives in Russellville, Kentucky with her husband. She has a son, daughter and grandson.
**FOR IMMEDIATE RELEASE**
For review copies or interview requests, contact:
Matt VanScoik
317.602.7137
mvanscoik(at)bohlsengroup(dot)com