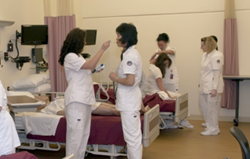 "Receiving ACEN accreditation signifies external review and approval and it is an assurance of quality for the community that our program meets national standards for nursing education." - Dr. Lynette Jack
Pittsburgh, PA (PRWEB) June 17, 2014
Pittsburgh Technical Institute has announced that the Board of Commissioners for the Accreditation Commission for Education in Nursing (ACEN) recently granted initial accreditation of the college's Practical Nursing program.
A site visit was conducted this spring by a team comprised of peer leaders in nursing education to evaluate the program's mission, administrative capacity, faculty, staff student policies and procedures, curriculum, resources and outcomes. According to a report issued by the ACEN Board of Commissioners, the visiting team cited the mentoring program of the Center for Teaching and Learning, high quality faculty instruction and accessibility of computers for student use. The report also noted "a high degree of critical thinking and preparation among the students working on the clinical unit."
The 12-month PN program was established in 2009 and is designed to support the increasing needs of a high-demand profession. The PN program prepares students to sit for the Pennsylvania State Licensure Exam (NCLEX-PN) following graduation.
Since its inception, 122 graduates have completed PTI's PN program. For the most recent reporting year ending September 30, 2013, 90% of PTI's practical nursing graduates passed the NCLEX exam enabling them to go to work as licensed practical nurses. This exceeds the national and state means of 85% and 88% respectively for the same reporting year.
According to the Pennsylvania Center for Workforce Information and Analysis healthcare professionals and technical support staff remain among the top ten projected occupations in Pennsylvania through 2014 based on numeric employment change and predict that the state will suffer a 32% shortage of LPNs by 2016.
"Receiving ACEN accreditation is a substantial milestone," said Lynette Jack, Ph.D., RN, Academic Chair, School of Nursing, Pittsburgh Technical Institute. "It signifies external review and approval and it is an assurance of quality for the community that our program meets national standards for nursing education."
According to Dr. Jack, there are a number of factors that distinguish PTI's Practical Nursing program. "PTI is one of only two Practical Nursing programs in Pennsylvania to offer an on-site simulation lab that enables students to use the interactive learning environment for 20% of their clinical time," she said. "This is particularly helpful in areas where specialty clinical sites are minimally available, such as pediatrics."
"In addition, PTI's Practical Nursing program features a strong base in both the art and the science of proviing safe, high-quality, patient-centered care," Dr. Jack added.
Faculty in the Practical Nursing program are credentialed health care practitioners with professional experience in nursing education, nursing administration, OB/neonatal, emergency, medical/surgical, post-anesthesia, out-patient surgery hospice and primary care nursing.
The mission of the Practical Nursing program at PTI is to prepare graduates to become members of a healthcare team able to assess, plan, implement and evaluate preventative, rehabilitative, and restorative care under the supervision of a physician, a dentist, or a registered nurse to ensure patient comfort, understanding, or recovery. Once licensed, PTI's nursing graduates can gain employment in hospitals and emergency centers, nursing care facilities, physician offices, community health agencies, home health care service providers and rehabilitation centers.
For more information about Practical Nursing at PTI, visit the website or call 1-800-784-9675.
ABOUT PITTSBURGH TECHNICAL INSTITUTE
Offering career-focused education since 1946, Pittsburgh Technical Institute is a two-year college with a 180-acre campus in North Fayette, west of Pittsburgh. PTI also offers programs through PTI Online and culinary programs through the American Academy of Culinary Arts, AACA. PTI awards degree and certificate programs in areas such as, Business, Criminal Justice, Hospitality and Culinary Arts, Design, Healthcare, Nursing, Information Technology, Trades Technology, and Energy and Electronics Technology. PTI students can take advantage of online course offerings, on-campus residence halls, student activities, intramural programs and community service programs. PTI is accredited by the Middle States Commission on Higher Education. PTI was recognized by its employees as one of the region's Top Places to Work in a 2013 study commissioned by The Pittsburgh Post-Gazette and is designated a Military Friendly School for the fourth consecutive year. For information about PTI: http://www.pti.edu.