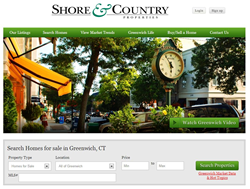 Riverside, CT (PRWEB) June 16, 2014
Frann Ward of Shore & Country Properties has three words of advice for those looking to rent in Greenwich: If you see something good, "run, don't walk."
Ward, who has seen more than her fair share of rentals, noted, "There seems to be multiple offers in every price range, and well-priced properties barely last the weekend."
The numbers speak for themselves. There have been 309 properties rented since January 1 which is on par compared to last year at this time, in which 319 units were reported. But the numbers show the total volume rented, $1,693,015, is up 1 percent over the total volume of the listed price, which is $1,662,670. The most current Greenwich Multiple Listing Service numbers show that 26 percent of the rented properties rented at the asking price, while 5 percent rented over the asking price.
One of the things that make Greenwich unique is the variety of price ranges. The average closed price is $5,479, which will afford a nicely updated three or four bedroom condo or home, often located near Metro North, shops and schools. The least expensive rental went for $1,050 per month and is an efficiency apartment in a multi-family home in the Bryam area with off-street parking that rented in 13 days. One of the more expensive properties reported a renting price of $28,000 per month for the summer season. Fully furnished, this four-bedroom home located directly on Long Island Sound comes with a private beach, its own dock and rented in just seven days.
When asked if she had any thoughts on what's driving this market, Ward responded, "Just like the sales market, we seem to be experiencing a lack of inventory. Many people chose to rent their houses when the market tanked as opposed to selling for less than they paid. Our market has recovered enough that these owners are selling as soon as the leases are up and the tenants are out. Plus, we always see a large number of clients leaving New York City and testing the town before they buy."
Advice for would-be renters? Ward said she encourages her clients to "get their ducks in a row. Check credit scores and be sure there are no errors, as the competitive market is giving landlords the luxury of being picky. And be ready to put down two months' rent as a deposit plus first month's rent when you sign the lease."
To see what properties Shore & Country currently has for rent or to contact one of their agents, please visit their website at http://www.ShoreandCountryProperties.com.
About the company:
Shore & Country Properties was originally started by Russell Pruner in 1989 as Russell Pruner and Associates. His vision for a company comprised of the town's best full-time real estate professionals. Nancy Healy joined the company as a partner in 1996. Since starting her career in real estate in 1987, Healy has been one of the town's busiest and well-respected realtors. Recently, her peers voted her one of America's Most Preferred Realtors. The year 2000 brought the addition of two more partners, Joan Epand and Ken Yorke. Each added yet more talent to the group, from Epand's marketing expertise to Yorke's sharp accounting skills and operational abilities.
Both Pruner and Healy have served multiple times as president of the Greenwich Association of Realtors and the Multiple Listing Service and given their time to work on other committees. As a result, they have a unique understanding of what it takes to run a successful real estate firm. And by carefully selecting only agents who represent the best of Greenwich, Russell Pruner and Associates quickly grew to become the leading independent real estate firm, serving all 50 square miles of Greenwich and lower Fairfield County.
"We handpick respected agents who demonstrate the integrity, expertise and personal touch that clients deserve when buying or selling their most valuable assets."
In 2003, Russell Pruner and Associates became Shore & Country Properties to let consumers know they service every neighborhood from the back country to the shore line. For the past 13 years, Shore & Country Properties has been the no. 1 real estate company in Greenwich by selling their listings in the fewest number of days and with the highest original list price to sales price. They continue to lead the Greenwich market in transactions and dollar volume while providing unparalleled service to their clients. For more information, visit their website at http://shoreandcountryproperties.com/.