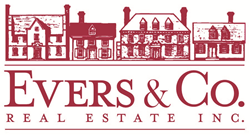 Washington, D.C. (PRWEB) June 17, 2014
When comparing home sales market reports from May of 2013 to May of 2014, the downtown Washington, D.C. real estate market experienced gains with a 13 percent increase in dollar volume of sales and a 9.7 percent increase in the average home sale price, despite a flat spring season for the region.*
"Downtown Washington, D.C. continues to serve as one of the brightest spots in the country for home sales and appreciation rates," says Donna Evers, president and broker of Evers & Co. Real Estate, the largest independent, woman-owned real estate firm in metro Washington. "We are experiencing strong and growing demand for homeownership in the increasingly popular District of Columbia, and that bears out in these latest figures."
The metropolitan Washington area real estate market, including the outlying areas, is expected to strengthen throughout the summer and into fall. Evers advises sellers to list their homes now, and appropriately price and stage them to command multiple offers. As for buyers, Evers advises them to shop carefully and prudently to ensure a sound investment.
"There are still not enough homes up for sale around our area to meet demand, so if sellers price and present their homes well, they're sure to solicit interest, and even bidding wars among buyers," added Evers.
Recent studies have shown that economic experts anticipate that the value of homeownership in the next decade will allow for owners to enjoy a return on investment just as individuals did during market peaks in the late 1970s, 1990s and into the early 2000's.
*Statistics are taken from the Metropolitan Regional Information System for Washington, D.C.
# # #
About Evers & Co.
Founded in 1985 by Donna Evers, Evers & Co. Real Estate, Inc. maintains its success through a strong referral base and agents who enjoy a premier reputation for their expertise and in-depth knowledge of Washington Metro Area homes and neighborhoods. Evers & Co. is home to more than 100 licensed real estate professionals with decades of combined experience, who enjoy access to a first-of-its-kind Agent Resource Center. The agency is the largest woman-owned and-operated residential real estate firm in the area and a member of Unique Homes Affiliate Network, Who's Who in Luxury Real Estate and FIABCI, the largest international real estate organization in the world. In addition, the agency has an alliance with My Home In Paris, a residential real estate firm in Paris, France. For more information about Evers & Co. Real Estate, visit http://www.eversco.com.