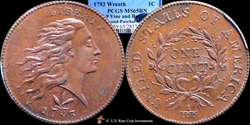 Port Charlotte, FL (PRWEB) June 18, 2014
US Rare Coin Investments has acquired the famous 1793 Gem Mint State Vine and Bars Wreath Cent, S-9, B-12. The coin, which is certified by PCGS, also comes with a CAC (Collectors Acceptance Corp) approval. PCGS shows one S-9, the present coin in MSBN65 condition with one finer at MSBN65+. The finest S-9 at NGC is MSBN62. As of June 2014, CAC has the present piece confirmed at the Gem MS65BN grade level with none finer. The coin is an eye-appealing mixture of light brown and olive with tiny splashes of mint red in protected areas. A small area of darker patina is on the reverse at ATES. The coin has well-centered, bold design motifs and hard, reflective fields. The dentils are sharp and complete on both sides. A few marks appear on both sides, but these were probably on the planchet before the coin was struck.
The coin's provenance includes Henry C. Miller from the Thomas Elder sale of 1917, Dr. George P. French from the B. Max Mehl sale of 1929, Henry A. Sternberg from the J.C Morgenthau sale of 1933, Charles Green 1954, Dr. William Sheldon, Virgil Brand, Dorothy Paschal, and Dean Oakes.
"The coin is a fabulous example of its type and variety," said Tom Pilitowski, president of US Rare Coin Investments. "It represents outstanding value for a collector and would be an excellent addition to any fine numismatic cabinet." While it is not currently for sale, Pilitowski went on to say, "With a provenance such as this and the coin's excellent appeal, it might well be a future million dollar Large Cent." This coin is destined for the finest early US coin collection or investment portfolio.
For more information call Thomas Pilitowski at 1-800-624-1870.