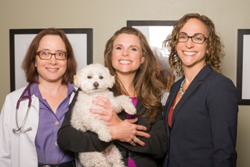 I'm thrilled to partner with veterinary specialty hospital owners to increase their service awareness and aid pet owners in making informed decisions for the treatment of their pets
(PRWEB) June 17, 2014
Karen Bostick, CEO and founder of PetsPage.com, announces that she will be launching FindAVetSpecialist.com this summer as a new feature for PetsPage.com to help pet owners access advanced veterinary care from board certified veterinary specialists in their area as well as a way for them to find credible pet health information online. PetsPage.com's Find A Vet Specialist will launch in conjunction with PetsPage.com's Veterinary Specialty Awareness Documentary that begins airing on Public Television Stations nationwide for one year this July along with a Public Service Announcement that airs on Animal Planet.
PetsPage.com's campaign aims to increase awareness of board certified veterinary specialists while bringing together specialty hospitals and pet owners that require their unique services. Find a Vet Specialist will add an invaluable feature to PetsPage.com's already thriving online social following of over 600,000 pet lovers.
Bostick set out to develop the online lookup feature for PetsPage.com's active social pet community as a way to save more pets' lives. Bostick believes that pet lovers should know all the options available in veterinary care today and encourages pet owners to be their pet's advocate. "My mission is really two-fold," explained Bostick. "As a pet owner, I believe the majority of the population does not know all the options they have for veterinary care today. I'm thrilled to partner with veterinary specialty hospital owners to increase their service awareness and aid pet owners in making informed decisions for the treatment of their pets."
Specialty hospitals that wish to partner with PetsPage.com can visit the Find a Vet Specialist campaign page. Hospitals are encouraged to sign up as charter members by June 30th for guaranteed placement with PetsPage.com by launch of the national television campaign that begins airing to over 97 million US households this July.
About PetsPage.com
PetsPage.com is an online social pet community where pet lovers from around the world come to socialize, share and smile. It's like Facebook for pets, but with exciting twists where members earn points and win prizes for their pets. Pet businesses can upgrade to a business page on PetsPage.com at no cost to engage one on one with over 5,400 members. PetsPage.com is the fastest growing online pet community on the web today with over 600,000 social media pet loving followers.
PetsPage.com's Pet Owner Awareness Campaign, which focuses on increasing awareness of advanced veterinary care and veterinary specialists, will be the focus of a documentary for Public Television and a commercial for Animal Planet that begins airing to television viewers nationwide this summer. PetsPage.com's Find-A-Vet Specialist online look-up will launch in conjunction with the documentary and national social media campaign, giving pet owners easy access to find veterinary specialists in their local communities.
About Karen Bostick
Karen Bostick founded PetsPage.com after her beloved matlipoo dog, Tinks, almost died because she was not aware of veterinary specialists. Bostick began sharing Tinks' story to increase awareness of vet specialists on social media in early 2013. Their social media followers grew at a rapid pace to over 500,000 in less than one year's time and Bostick realized this was the opportunity she was looking for to get the message out about her mission. In addition to being the CEO and Founder of PetsPage.com, Bostick is the Radio Host of Pet News on Sirius XM 143, Editor of PetsPage Weekly Press and Social Pet SuperStars of PetsPage and also the Online TV Host of The PetsPage Show. Please visit Petspage.com/About-Us for more information or to join PetsPage.com's fast-growing online social pet community.
PetsPage.com is based in Boise, Idaho.