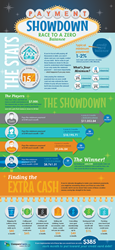 "The credit industry is complicated and can be confusing," says Mettler. "Our hope for the infographic series is that it provides consumers with a more thorough understanding of all the factors that affect their credit score and financial health."
Charleston, SC (PRWEB) June 16, 2014
Today CompareCards, a credit card comparison website, published an infographic that shows how easy it is to avoid overpaying on interest.
Americans currently owe $854.2 billion in credit card debt and there are more than 600 million credit cards currently in use in America. The average American household carries about $7,000 in credit card debt. When consumers find themselves buried in debt, high interest rates and fees can make it difficult to pay off their balances.
"When it comes to borrowing, it is imperative to pay as much as you feasibly can, which is hopefully at least the minimum payment," said Chris Mettler, President of CompareCards. "Some interest rates can be so astronomical that it's almost impossible for a consumer to pay off a huge debt if they're paying near the minimum balance."
The "Payment Showdown: Race to a zero balance" is the first in a series of infographics CompareCards plans to publish this year. This infographic has a game-show theme, providing examples of "contestants" racing to reach a zero balance first. It also highlights the typical interest rate to be expected by major issuers and examples of how consumers can save almost $400 each month to put towards their debt.
"The credit industry is complicated and can be confusing," says Mettler. "Our hope for the infographic series is that it provides consumers with a more thorough understanding of all the factors that affect their credit score and financial health."
To view and share the infographic, visit: http://blog.comparecards.com/infographics/.
About CompareCards.com:
CompareCards.com, http://www.comparecards.com, was formed in 2005 as a listing resource, but has grown into one of the most trusted credit card comparison sites used today. Users are able to compare credit cards using a side-by-side comparison tool to find the best offer for them based on the factors that are important to each individual. CompareCards also offers customers additional resources and financial literacy information via their blog, CompareWallet and Education Center.