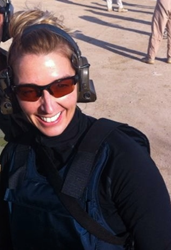 We are soldiers who carry medical packs, not medics who carry weapons.
London (PRWEB) June 17, 2014
Chantelle Taylor had a remarkable career in the British Army. Renowned for being the first female to engage and kill a Taliban fighter at close quarters in Helmand Province, Taylor was the lead medic supporting an infantry fighting company during combat operations in the notorious region of Southern Afghanistan.
In her book "Battleworn", she narrates the true story of B Company. What started out as a routine patrol into the opium saturated district of Nad-e Ali, turned into a seven-week siege. The colossal underestimation of Taliban fighters in the area would push every soldier to take up arms against an unrelenting enemy.
"We are soldiers who carry medical packs, not medics who carry weapons," Taylor said.
Forced to share the burden of combat, the medic manned the company mortar line as fierce fighting and unsustainable casualty numbers left their unit gravely undermanned. According to the Geneva Convention, a medic may only do this in extreme circumstances.
"There were roughly 100 soldiers defending our patrol base," Taylor said. "During the two months that we held Nad-e Ali, 66 soldiers were wounded and four were killed in action."
The overwhelming majority of British casualties survived the battle to hold Nad-e Ali and the district never fell to the Taliban. It would take a further 1,500 troops to secure the enemy stronghold, putting into perspective what Taylor and B Company managed to achieve in the face of overwhelming odds.
Much of her story is centered on the hardship that soldiers of B Company faced as a collective and "Battleworn" gives a rare insight into the physical and psychological struggles of soldiers at war. Written with humility, it offers an encouraging and unique perspective on the role of women in combat.
"Battleworn"
By Chantelle Taylor
ISBN: 978-1-4917-2526-3
Available in softcover, hardcover, e-book
Available on iTunes, Amazon, Barnes & Noble and iUniverse
About the author
Taylor served in Kosovo, Sierra Leone, Iraq and Afghanistan while in the British Army. On leaving the service she was recommended to take the Queen's Commission from the ranks. She returned to Afghanistan for a third time with the U.S. Department of State, completing two years as an instructor in combat medicine. Moving to Baghdad, Taylor transitioned into diplomatic security for a further three years. She is currently working as a senior security advisor and consultant in tactical medicine.
# # #
For review copies or interview requests, contact: Matt VanScoik | 317.602.7137 | mvanscoik(at)bohlsengroup(dot)com