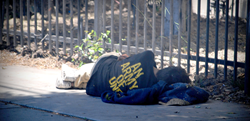 Orange, CA (PRWEB) June 17, 2014
On June 3rd, 2014, an overwhelming amount of California voters approved the passage of Proposition 41, allowing the 3 state agencies to use $600 million in general obligation bonds to pay for the "acquisition, construction, and rehabilitation of multifamily low-income permanent and supportive housing for homeless and low income veterans and their families in California, according to The Central Valley Business Times.
The initiative is crucial for California's veterans as California is the state with the #1 largest amount of veterans in the whole nation, home to 2 million veterans out of 22 million total in the United States as measured by the U.S. Census Bureau. These statistics mean that California accounts for 9% of the total veteran population throughout the United States. Out of the 2 million veterans in California, 16,000 of them are homeless, also giving California the distinction of, "having the largest homeless veteran population in the country" as noted by The Central Valley Business Times.
Needless to say, the passage of Proposition 41 means great things for our homeless vets.
According to Lake County News, the Veterans Housing and Homeless Prevention Program, which was created when Governor Brown signed AB 639 by Assembly Speaker Emeritus John Perez in 2013, is already in development stages and the passage of Proposition 41 will help provide the funding to put their goals into action. The California Department of Veterans Affairs (CalVET), the California Department of Housing and Community Development (the HCD), and the California Housing Finance Agency (CalHFA) are already working to identify needs and solutions that will better the quality of life experienced by those who served our community and ultimately our freedom. The funding will be used to make a huge improvement on the housing options available for vets. The three state agencies are planning stakeholder meetings in July to implement the program framework and proposed policies. These meetings will also work to identify where the demand is greatest for the Veterans Housing and Homeless Prevention Program, and the meetings will reach a conclusion on which services need to come together in order to achieve this. The meetings are open to the public, in Sacramento, Oakland, San Diego, and Riverside throughout July.

July 10, 10 a.m.: Elihu M. Harris Building, 1515 Clay St., Oakland.
July 14, 1:30 p.m.: California Tower, 3737 Main St., second floor, Riverside.
July 15, 10 a.m.: California State Office Building, 1350 Front St., Room B109, San Diego.
July 16, 1:30 p.m.: HCD headquarters, 2020 W. El Camino, Room 402, Sacramento.
Lake County News detailed that "subsequent stakeholder meetings will be held in San Diego, Los Angeles and the Bay Area in September 2014 to allow for comments on the draft program guidelines". Information about these meetings will be posted at the HCD website, http://www.hcd.ca.gov/fa/vets/, and the CalVet website as well, http://www.CalVet.ca.gov.
"A stable, safe, affordable sense of place is the best possible way to tell our veterans 'thank you for your service,'" says Claudia Cappio, executive director of CalHFA. "We look forward to collaborating with veterans, stakeholders and other state agencies to bring this valuable program to fruition."
Broadview Mortgage values the opportunity to educate consumers to understand which direction that their current or future mortgage is taking them in. If you have any questions about the information herein, feel free to reach out to the Author, Brittany Williams, at Brittany.williams(at)broadviewmortgage(dot)com. If you would like a quick pre-approval click here, and for assistance with down payment or buyer assistance, click here. You are also always free to give us a call toll free at (855) 692-7623.
Since 1988, Broadview Mortgage has distinguished itself through honest business relationships with clients, loyalty to employees, and commitment to empowering and educating those communities. Broadview Mortgage is a mortgage banker and direct lender made up of loan officers with years of experience in the firm and sheer excellence in customer service. The firm works to explore several financial solutions from which it's clients may choose. Business is initiated and conducted on a word-of-mouth basis. Broadview Mortgage is a delegated underwriter for the Federal Housing Administration (FHA), the Veterans Administration (VA), and the Federal National Mortgage Association (FNMA). Broadview is also approved to participate in several state, county and city programs for First Time Home Buyers.
# # #