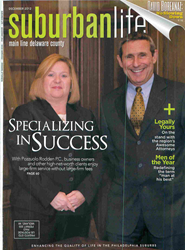 (PRWEB) June 19, 2014
Pozzuolo Rodden, P.C., Philadelphia Estate Planning Attorneys Release the Article: "Why Retirement Funds are the Asset of Choice for Charitable Gifts at Death."
If a person is planning to make a bequest to a charity in their will, they may want to instead consider making a gift of a retirement account to maximize the tax benefits for both their estate and their individual beneficiaries. In 2014, estates with gross assets in excess of $5,340,000 must file a federal estate tax return and estate tax may be due on assets included in the estate in excess of that amount. Currently, any assets over $5,340,000 that are transferred from a decedent's taxable estate are taxed at a rate of 40%. While this may seem like a steep tax rate, the individuals to whom the property is transferred do not have to pay income tax on what they receive.
The exception to this rule is for accounts such as traditional qualified retirement plans, IRAs or 401(k)s. The distributions from a traditional qualified retirement plan, IRA or 401(k) are classified as income in respect of a decedent (IRD). Distributions from these accounts are taxed as ordinary income as the government has not already taxed this money. This income is added to the beneficiary's income from other sources and then taxed at the beneficiary's applicable marginal income tax rate as ordinary income. If the individual has significant income from other sources or if the distributions from the retirement account are very large, it could result in their retirement account effectively being taxed at a rate in excess of 60%, for federal and state estate and income taxes. Making a charitable bequest of a retirement account instead of leaving it to an individual beneficiary can greatly reduce both federal and state estate and income taxes.
Gifts of property to charities are not subject to the federal estate tax and are excluded from a decedent's taxable estate. Under Section 2055 of the Internal Revenue Code, a deduction is permitted on the federal estate tax return for gifts made to charities, government agencies, certain fraternal societies, and/or certain veterans' organizations. The amount of the charitable contribution can be deducted on the federal estate tax return to reduce your net estate to an amount closer to or under $5,340,000, so that less or no federal estate tax is due...
If you would like to read more, please visit our web site: http://www.pozzuolo.com
Contact our Philadelphia Estate Planning Law Firm with your questions, comments or concerns.
Pozzuolo Rodden, P.C. provides specialized cost-effective legal services to privately held business owners and high-net-worth clients in Pennsylvania and New Jersey in excess of 35 years.
Practice Areas: Business/Corporate Litigation | Business/Corporate Law | Real Estate | Employment Law | Estate Planning | Tax & Pension Law
Pozzuolo Rodden, P.C.
Counselors at Law
2033 Walnut Street
Philadelphia, PA 19103
215-977-8200