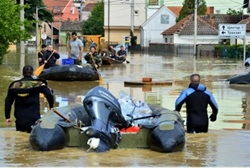 If you are interested to joining us, please contact your local Church of Scientology or Scientology Volunteer Ministers headquarters through the Volunteer Ministers website
(PRWEB) June 16, 2014
A team of Scientology Volunteer Ministers left Budapest by truck June 7 for the Bosnian town of Orasje, carrying 6 tons of food and water along with a high-capacity water pump for use in the cleanup operation. As many as 70 percent of the homes are damaged beyond repair and pumps and blowers are urgently needed to drain water and dry the walls of houses that can still be salvaged.
The regional Volunteer Ministers headquarters in Budapest is raising funds to purchase additional pumps and diesel generators to ship to crisis headquarters in Orasje and Zupanja in Croatia.
This is the second truckload of goods sent by the Volunteer Ministers to the disaster zone. On May 28, their bright yellow truck left from Budapest filled with bottled water, canned food, rubber boots, baby diapers, mosquito repellent, protective suits and masks. Croatian and Hungarian authorities granted them free use of all highways and express passage through the border crossings.
Scientology Volunteer Ministers have been providing relief since Cyclone Tamara struck in mid-May. The storm dumped the equivalent of three months rainfall on the region in three days.
Volunteer Ministers ferried stranded residents to safety by motorboat. The flooding in this area was so extreme, some families had to be rescued from the roofs of their homes by helicopter.
This flood has brought another danger into play—landmines. An estimated million landmines were laid in more than 9,000 minefields in the region in the 1990s during the Bosnian War. Authorities have spent the last two decades unearthing and deactivating mines but some 120,000 still remain. In some of these minefields, flood water has washed away topsoil, leaving mines exposed.
The flood has forced hundreds of thousands from their homes. Bosnian officials estimate the damage from the disaster in their country alone will exceed a billion dollars. More volunteers are needed to deal with the crisis.
"If you are interested to joining us, please contact your local Church of Scientology or Scientology Volunteer Ministers headquarters through the Volunteer Ministers website," says Juraj Duna, director of the Scientology Volunteer Ministers Eastern European Goodwill Tour who is coordinating the disaster response activity.
Training is available for anyone wishing to learn to provide Scientology assists, techniques developed by Scientology Founder L. Ron Hubbard that help speed healing and address the emotional and spiritual factors in stress and trauma.
Transcending all ethnic, cultural and religious boundaries, the Volunteer Ministers program is there for anyone in need of help. Volunteer Ministers training is available free of charge through the Scientology Volunteer Ministers website to anyone who wishes to help others.
The Church of Scientology has published a new brochure, Scientology How We Help: Scientology Volunteer Ministers—Something Can be Done About It, to meet requests for more information about the program. To learn more or read a copy of the brochure, visit the Scientology website.
In creating the Volunteer Ministers program, L. Ron Hubbard wrote, "If one does not like the crime, cruelty, injustice and violence of this society, he can do something about it. He can become a Volunteer Minister and help civilize it, bring it conscience and kindness and love and freedom from travail by instilling into it trust, decency, honesty and tolerance."