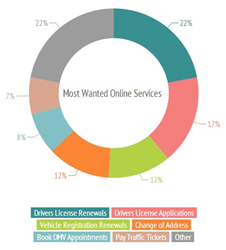 80% of Millennials are open to outsourcing some DMV services and 90% want increased investment in online services.
Chicago, Illinois (PRWEB) June 17, 2014
DMV.com, a guide for the Department of Motor Vehicles (DMV) and driving-related issues, released a study detailing the preferences of younger generations regarding DMV services. The goal of the study was to look at what future generations want from their DMV, and to examine if those wants are feasible.
The clearest difference in perspective from younger to older generations is their attitude toward privatization. 80% of respondents under the age of 18 were open to outsourcing some DMV services to 3rd parties, while respondents aged 18 - 34 came in at 72%, the age range 35 – 54 at 60%, and finally, only 57% of respondents 55 and older were open to the idea. The trend is clear – younger individuals are more open to privatization than older individuals.
The second main takeaway from the study is that DMV customers want increased investment in online services. 90% of Millenials (those 18-34) respondents were open to investments in online DMV services and 70% were strongly in favor. This was a relatively consistent view among age ranges, with exception to respondents 65 and older.
When DMV.com asked Millenials which online services should be priorities they tended to focus on convenience. The top services on their list included:
Drivers License Renewals (22%)
Drivers License Applications (17%)
Vehicle Registration Renewals (12%)
Change of Address (12%)
From a previous DMV.com Customer Satisfaction Study, results concluded that only 56% of drivers were somewhat satisfied or more with their DMVs. The DMV Generation Attitude Study indicates that if a state motor vehicle agency/department successfully implements 3rd party solutions and offers more online services then younger generations will be more satisfied with their DMVs in the future.
Some DMVs have already seen success with privatization initiatives, while others have failed. Ohio, which ranked first nationwide in overall satisfaction, has had a partially private system since the 80s. New Jersey experimented with privatization in the late 90s, which has been largely characterized as a failure. The outcome for future privatization initiatives is still unclear, and likely will be different for each state.
States that have implemented online services have generally seen a favorable acceptance from the public. There still remains some concerns regarding privacy and security, as California recently saw a breach in their system earlier in 2014, but the general trend does seem to be moving towards the digitization of the DMV. Research released by the Virginia DMV suggests that online DMV services cost 55% less than traditional services.
Given the clear message of younger generations, privatize and digitize, the DMV should focus on experimenting with these initiatives and learn from previous attempts in other states. Looking to the future, the DMV will need to keep up with societal change and the technology future generations will come to expect.
About DMV.com
DMV.com is an online resource designed to help simplify the Department of Motor Vehicles. As a private company, DMV.com helps millions of people receive the information and services that they need quickly and easily. DMV.com is a privately owned website that is not affiliated with any government agencies. For more information, please visit http://www.dmv.com.