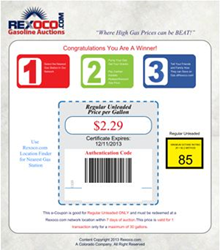 I haven't paid full price for gas in months.
Denver, CO (PRWEB) June 17, 2014
Rexoco.com announced today that it has changed its online gas auction win limits to one auction per day. "This change will allow more Colorado drivers to experience the savings Rexoco gas auctions provide," said Paul James, Founder of Rexoco. James goes on to state, "our auctions deliver an innovative alternative to address the increasing demand for discount gas prices. To date our auctions have saved Colorado drivers over $400,000."
Colorado drivers have been taking advantage of a new concept to help them obtain the cheapest gas prices in Denver and throughout Colorado. Rexoco.com is the first online gasoline auction in the country where drivers bid for an extremely low per gallon gas price, which can be redeemed at over 20 Conoco and Shell locations in the Denver metro area. This unique auction site is dedicated to driving down the cost of gasoline for all Colorado drivers.
Rexoco.com is changing the way Colorado drivers buy gasoline. The program launched in May of 2012, and is quickly becoming the online destination for discount gasoline prices. The website combines the excitement of online retail shopping in a fun, competitive and engaging environment while providing an exceptional value on a product that has never been purchased using the internet. "Just as eBay and Amazon have changed consumer purchase behaviors, Rexoco is quickly transforming the way people think about their gas purchase" said James.
Customers like Peggy Jamison, a regular user states "I have not paid full price for gas in months!" "This feedback is exactly what the program was designed to do," says James. He goes on to say. "We want to make this fun, in addition to providing a huge value."
To try Rexoco.com, simply register and with a confirmed email address receive 10 free bids to place on any available auction, be the last bidder when the timer runs out and you win! The winning bidder will receive an electronic coupon to their email inbox just minutes after auction close and the discount gas price may be redeemed at any gas station in our network.
Background
Rexoco Stores, Ltd, a Colorado Corporation was founded in 1991. Over the years, Rexoco has operated convenience stores along the Front Range of Colorado including, Denver, Greeley, Ft. Collins, Lyons, Downieville, and Silverthorne. Each of these locations features Conoco Branded gasoline and is considered the best in class for gasoline retail in the industry. With the creation of this new online auction marketplace they are quickly building a new brand loyalty following.