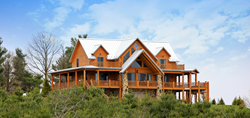 Scott Kirk, Founder and President of Interluxe, said, 'Nothing beats this private family retreat in the Blue Ridge Mountains. Interluxe is proud to offer this Fancy Gap getaway on our platform to our large exclusive database of buyers.'
Charlotte, NC (PRWEB) June 16, 2014
Fancy Gap, VA is renowned for its cool summer weather, mountain music, ample outdoor activities, Appalachian culture, unique shopping, and friendly people. One of the most impressive mountain estates in this captivating recreation area is now going up for grabs in an online auction. Previously listed for $1.2 million, this incomparable mountain retreat will be offered by Interluxe to the highest online bidder beginning Monday, June 30th, 2014. Numerous interior and exterior photos of the property are available online at: Fancy Gap Mansion.
This picturesque 54± acre estate, located in the Blue Ridge Highlands, features a custom-built log home built recently in 2011. This special home sits inside an ideal natural sanctuary, a place to unwind and unplug from the hustle and bustle of daily life. The winning bidder will love relaxing and letting go on his home's wrap-around balcony with outdoor hot tub and magnificent views of Buffalo Mountain. The new owner will undoubtedly enjoy the nearby golf courses, state parks, orchards, and unique shopping and dining opportunities too. This secluded mountain getaway sounds inaccessible, but in reality, it is conveniently located just an hour from Winston-Salem, NC & Blacksburg, VA and one and a half hours from Charlotte, NC.
Scott Kirk, Founder and President of Interluxe, said, "Nothing beats this private family retreat in the Blue Ridge Mountains. Interluxe is proud to offer this Fancy Gap getaway on our platform to our large exclusive database of buyers. Some lucky bidder is going to walk away with a really special property in an uncomplicated, and transparent transaction and have an amazing summer in the mountains."
The gated private entrance to the estate leads through serene rolling hills up to the large house with its astonishing views of the Blue Ridge Highlands. This area is the ideal place to spend some important personal and family time fishing, hunting, horseback riding, or simply relaxing in the outdoor hot tub. For the equestrian in the family, there is ample open land on the grounds for horse pastures and a barn.
Other features and amenities of the estate include: four bedrooms, four full bathrooms and one half-bath, a master suite on the main floor with a balcony and views of Buffalo Mountain, balconies off three of the bedrooms with breathtaking views, a three-car garage, a game room, an office, and a stocked pond for fishing.
The online auction starts on June 30th, 2014 at 11:00 A.M. Eastern. In-person previews of the home are available during one of the pre-scheduled viewing times or by appointment. Bidders can call or click for the preview schedule or to obtain information about how to take part in the auction. Agents are fully encouraged to participate and cooperating brokers will receive commissions.
Interluxe is the premier platform for online luxury property auctions where motivated sellers, dedicated agents, and discerning buyers connect to do business on their own terms. The firm specializes in the auction of luxury properties worth $750,000 or more and also offers "a la carte" marketing: home sellers choose from multiple tiers of marketing services to ensure their property stands out to as many qualified buyers as possible. Every seller gets exclusive access to Interluxe's database of over 100,000 luxury homebuyers and over 1.5 million listing agents. The result is that agents and sellers get their individual marketing needs met through completely customized promotions. If you or someone you know can benefit from Interluxe's exclusive new platform, unmatched database, and first-class marketing and promotion, contact them at (888) 415-LUXE or http://www.Interluxe.com.