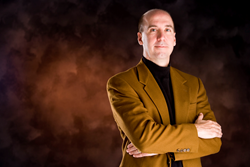 The wisest people I know strive toward making a habit of unlearning what they have already learned, and applying their new habits in such a way that it transforms their lives.
New York, NY (PRWEB) June 18, 2014
LeadingAge of New York is holding their Annual Conference and Expo and futurist Jack Uldrich will be delivering his customized keynote, "Why The Future of Aging Demands Unlearning." The Conference, intended for CEOs, executive directors, administrators and any department executives who work in a skilled nursing, adult care, assisted living, senior housing or community service environment, will explore how individuals, in concert with shifting perspectives, norms, and technologies are '[Re]Defining Age in America.'
LeadingAge has specifically chosen Uldrich for his expertise in the area of unlearning. Hailed as the "Chief Unlearning Officer" at the Chief Officer's learning Summit in Mumbai, India, Uldrich makes his living researching, writing and speaking internationally on the topic. Uldrich also focuses his research and speaking on future trends, leadership and change management.
A firm believer in the the notion that "the mastery of transformation is the process of unlearning what you have already learned," Uldrich is the author of "Unlearning 101: 101 Lessons in Thinking Inside-Out of the Box." He is also the founder and president at The School of Unlearning – an international consultancy designed to help organizations succeed tomorrow by unlearning today. For a look at one of his perspectives on aging, view this post here.
Since March, Uldrich has been busy crossing the U.S. delivering his keynote, "How the Internet of Things Will Transform Business" to the Verizon Wireless Connected Tour. And on June 19th he will be in New Orleans speaking with the Financial & Insurance Conference Planners Education Forum delivering, "Ten Trends Transforming Tomorrow" along with a special breakout session: "The Big AHA."
Parties interested in learning more about Jack Uldrich, his books, his daily blog or his speaking availability are encouraged to visit his website. Media wishing to know more about either the event or interviewing Jack can contact Amy Tomczyk at (651) 343.0660.