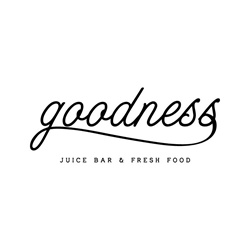 Tucson, AZ (PRWEB) June 17, 2014
As the latest restaurant concept from Sol Hospitality, Goodness announces a new partnership with Nuanced Media, featuring a brand new website reflecting the collaboration. The new site features an easy to navigate single scroll page with clearly defined information about location, different menus and company background.
Goodness, a Tucson Restaurant, opened in April of this year and focuses on building and providing meals made with the purest, freshest ingredients available. Not wanting to compromise good taste for good health, Goodness pride themselves on offering menu options that balance taste with sustainability and health.
The design and development team at Nuanced Media created a unique and innovative website design. From a development perspective, the technical design of the new website is a single page parallax layout. From the perspective of Nuanced Media's Creative Director, Alex VanGilder, this means that "the website is a one page full-bodied experience from top to bottom and in that experience a user will learn everything they need to know about Goodness."
The unique single page format leads the user to different parts of the page as they use the navigation. Each section of the website, such as the menus and location, is colorful yet sophisticated. The most innovative part of the website is the use of its transition of fixed transparent full page and up close images of entrees aimed to immerse the consumer in the unique ingredients and presentation offered by Goodness.
Visitors can read the complete menus for Breakfast, Lunch, and Juice offerings to explore the complete spectrum of dishes, fresh juices, power smoothies, and other specialty drinks. For the location section of the website, an integrated Google map easily provides directions to the restaurant's Central Campbell and Grant location. In addition, Goodness offers the ability for users to receive email updates and special offers.
The partnership between Nuanced Media and Goodness is punctuated by a unique and innovative website design that visually represents the Goodness's core values and expertly paired menu options. The new website draws customers to the business by combining those images with compelling content and interactive experiences.
About Nuanced Media
Nuanced Media is a digital marketing agency, specializing in strategic, multilayer marketing campaigns and efficiently crafted, user-friendly websites. Based in Tucson, the company has a variety of clients throughout Arizona, California, and Texas. For more information, please view Nuanced Media.