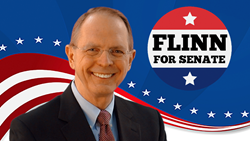 We must fight to fix Obamacare now, before this is no longer a scandal, but an everyday occurrence and a standard Americans are forced to live with
Memphis, TN (PRWEB) June 18, 2014
"As the Veteran's Hospital Scandal continues to unfold, we are being told that the Veterans Hospital right here in Murfreesboro, Tennessee is one of the most underperforming VA Hospitals in the country" said Dr. Flinn.
"Washington has deserted our veterans. These men and women have bravely fought for us, yet Washington refuses to fight for them. We should be beating down doors to make their care a priority. Having the worst facilities in the country in our own backyard is simply unacceptable," said Dr. George Flinn.
"Tennesseans should pay close attention to what is happening at our Veterans Hospitals because this is a preview of what Obamacare will bring us. Government-run health care systems operate on numbers. Whether it's the number of doctors, nurses, or beds—it is all formula driven. We can expect to see the same long delays, waiting lists, and doctor/patient disconnect with Obamacare as we have seen with the Veterans scandal in recent weeks," said Dr. Flinn.
Dr. Flinn has worked with corporate executives, industry analysts, and physicians to develop a real, workable solution to replace Obamacare and restore the most important part of our healthcare system, the Doctor/Patient relationship. His plan includes principles such as portability, free markets, and right of conscious. The details of The Patient Centered Health Plan are available at PCHP.us
"We must fight to fix Obamacare now, before this is no longer a scandal, but an everyday occurrence and a standard Americans are forced to live with," said Dr. Flinn.