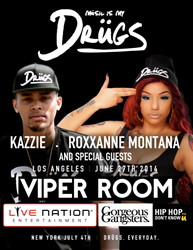 Expect to have 'music is my drügs' come to LA, Vegas, Houston, Atlanta, North Carolina and Atlanta.
(PRWEB) June 18, 2014
Music is my Drügs, the tour, in partnership with Live Nation, begins June 27th in Los Angeles at the Viper Room. New Jersey native Kazzie will be performing his hit single "Yeah Ok". Follow @Kazzie_Stoner. DJ Self broke the record in New York and the catchy hook "your Instagram is a liar" sees daily spins on New York radio and XM. The remix features Rick Ross. Roxxanne Montana will be performing songs from her unnamed upcoming mixtape. Doors open at 8pm.
Buy tickets at: http://tickets.36drugs.com
Advance: $12.50
Door: $15
VIP: $30
Inquiries: everyday(at)36drugs(dot)com
For fans of the drügs brand, rest assured that the latest apparel will be available at the Viper Room throughout the show. Snapbacks, bucket hats, tees, tights, tanks, socks, shorts and underwear will be available. Visit http://www.musicismydrugs.com for latest announcements and tour merchandise.
Although the remaining dates are being kept under wraps, the second date is July 3rd in New York, with surprise guests. Expect to have "music is my drügs" come to Vegas, Houston, Atlanta, North Carolina and Atlanta. On Instagram, follow the creator of the brand and acronym, "Do Right Ü Gain Success", @HozeaMassiah, and business woman/artist @QueenRoxxanneMontana. And for everyday drügs tour updates, questions tickets and concerns, follow @everydaydarren.
Breakfast, Lunch & Dinner is the accompanying tour mixtape series featuring various artists from the tour. Look for it on Livemixtapes.com.
Steve Lobel will be taking the stage to pay homage to the greats, past and present, and remind us about the values and principles of this culture we call Hip-Hop, through his brand "HipHopDontKnowÜ".
Journalists, photographers & bloggers who are looking to interview artists can submit credentials to everyday(at)36drugs(dot)com.
We're addicted to this life. Drügs. Everyday.