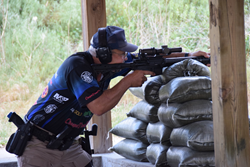 Grand Island, NE (PRWEB) June 17, 2014
Shooters from across the country tested their talent in the match that featured 10 stages, and five side match stages. Specially developed reactive zombie targets kept everyone engaged and entertained. Participants shot from inside of a helicopter, beside a prison bus, behind a wrecked car, through a tunnel and from other challenging and unique stages.
The top shooters in each class were:

Open: 1st Jerry Miculek, 2nd James Darst, 3rd Kelly Neal
Tactical: 1st Adam Popplewell, 2nd Kurt Miller, 3rd Lena Miculek-Afentul
Amateur: 1st Justin Morris, 2nd Blaise Sanford, 3rd Wesley Powell
For complete results visit http://www.zombiesintheheartland.com/results.
"As word of this event spreads, it just keeps growing," said Neal Emery, Marketing Communications Manager for Hornady. "Three-gun competitors from around the country come to enjoy a challenging environment built around a popular Zombie theme. A generous prize table from a long list of sponsors keeps everyone interested, too."
For event photos and updates on next year's rematch, visit the Facebook page at https://www.facebook.com/ZombiesInTheHeartland.
Founded in 1949, Hornady® is a family owned business headquartered in Grand Island, Nebr. Proudly manufacturing products that are made in the USA, Hornady® Manufacturing is a world leader in bullet, ammunition, reloading tool and accessory design and manufacture.
For further information regarding Hornady® products, visit our web site at http://www.hornady.com. Media members interested in Hornady® products for editorial review should contact Neal Emery at nemery(at)hornady(dot)com.