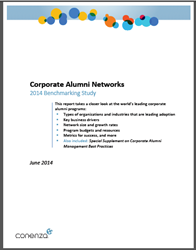 Seattle, WA (PRWEB) June 17, 2014
Conenza, the leading provider of Corporate Alumni Management software and services, today announced the release of the 2014 Corporate Alumni Networks Benchmarking Study.
The inaugural edition of this annual study takes a closer look at leading Corporate Alumni Networks around the world. The comprehensive report features:

Types of organizations and industries that are leading adoption
Key business drivers
Network size and growth rates
Program budgets and resources
Metrics for success
A Special Supplement on Corporate Alumni Management Best Practices
"Today, Corporate Alumni Networks continue to be a valuable source of talent and new business as companies struggle to find skilled workers and rely more heavily on their extended networks as brand advocates and sources of strategic talent acquisition," said Tony Audino, CEO and founder of Conenza. "This first-of-its-kind research provides valuable insight and inspiration to companies who already have a formal corporate alumni program as well as those who are contemplating an initiative."
To download the complete study, visit: https://www.conenza.com/corporate-alumni-benchmarking-study.
About Conenza
With more than a decade of experience, Conenza focuses on saving market-leading organizations precious time and money through innovative, cloud-based social business solutions and services that keep the people most important to their businesses informed, connected and engaged. Conenza's on-demand enterprise solutions include an Engagement Platform and related services designed specifically for companies who want to stay connected with former employees to realize lower recruiting and on-boarding costs, amplified revenue- and brand-building opportunities, and continued access to valuable intellectual capital. For more information, visit http://www.conenza.com.