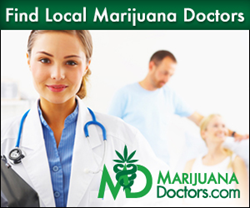 Marijuana Doctors is pleased that Governor Cuomo's regulations – if passed – will allow doctors to utilize our advanced scheduling system in order to ensure timely, required monthly visits for the state's medical marijuana program.
Long Island, NY (PRWEB) June 17, 2014
Medical marijuana means many things to a number of patients that suffer from a chronic or debilitating condition. However, problems arise once state politicians begin to play physician – further limiting the number of qualifying conditions before any medical research has been conducted. Not only is it limiting the number of patients that can be medically assisted, but it is substantially lowering the overall financial benefits that a state is capable of generating.
In these hard economic times, medical marijuana represents an opportunity for doctors, lawyers, realtors and entrepreneurs to expand their horizons as part of a growing trend of business. Taking a look around the country, certain state's medical marijuana programs are either flourishing with recommendations or slowly receding due to low participation rates and limited conditions.
New Jersey for example, was predicted to have its medical marijuana program serve tens of thousands of patients with debilitating conditions. To date there has been only 2,342 patients registered with the state's program, a worrisome participation rate. With only twelve qualifying ailments, access is extremely limited and supporters worry the program's future could be placed in jeopardy. According to an article published on June 16th by Brent Johnson from the Star-Ledger, Governor Chris Christie does not believe there is any appropriate method for enhancing patient participation. In fact, Christie believes there is no need to change the program if patients haven't shown up to fulfill requirements as well.
New Jersey remains one of five medical marijuana states that do not recognize severe and chronic pain as a qualifying medical condition. It also remains the only one to require two annual reports to be submitted before the public can request new medical conditions be added.
Then there's the Nation's Capital, which after implementing medical marijuana in 2012, has seen its total number of patients participating in the program consistently below 500. Due to a limited number of conditions, the group responsible for expanding the list of qualifying ailments has provided a report to the Department of Health recommending new guidelines leaving it up to doctors to decide whether a patient might benefit from marijuana.
There is an ongoing trend that shows any expansion of medical marijuana programs will result in an increase of revenue to the state - the medical marijuana sector is infantile, with room to grow. As soon as states begin to expand access to patients in need, the size and revenue generated by said markets will grow and evolve as well.
Now, the country's sights are set on the Empire State, where according to another article published on June 16th – this time in the New York Daily News by Ken Lovett – Governor Andrew Cuomo has proposed legislative amendments to a bill that would craft a program similar to New Jersey and D.C.'s. New York's program will provide a company like MarijuanaDoctors.com – the ZocDoc of pot – with unique data that singles out the medical necessity for cannabis, a medicine that the company is crowdsourcing an understanding of.
Jason Draizin – the company's Chief Executive Officer – said, "MarijuanaDoctors.com is pleased that Governor Cuomo's regulations – if passed – will allow doctors to utilize our advanced scheduling system in order to ensure timely, required monthly visits for the state's medical marijuana program. Monthly recurring visits used in conjunction with the Titrate THC portion of our mobile application will yield results that will finally answer questions in regards to the use, dosage and duration of medical cannabis for conditions such as cancer, epilepsy, Parkinson's disease, multiple sclerosis, HIV/AIDS, diabetes, spinal cord injuries and neuropathic pain. MCN supports its Governor and respects the conservative approach towards implementing a program cautiously. We see this as necessary in order to further develop the market as a state, and as an industry leader."