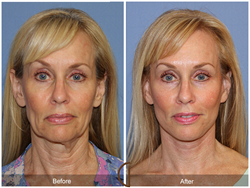 No matter which procedure a patient chooses, they will not regret utilizing their long holiday weekend in order to achieve a new look and a fresh dose of confidence.
Newport Beach, CA (PRWEB) June 18, 2014
Fourth of July weekend typically conjures up images of barbecues, trips to the beach and lots of red, white and blue. However, more people in the Orange County region are spending their long holiday weekends recovering from a quick cosmetic procedure rather than sipping lemonade and enjoying burgers with their friends.
Dr. Kevin Sadati, a facial plastic and reconstructive surgeon based out of Newport Beach, notes that these long weekends have become increasingly popular for patients who wanted to have a quick yet effective cosmetic procedure performed.
"There are many cosmetic procedures available that can change, refresh and rejuvenate a person's image without forcing them to endure a long recovery. These procedures are the perfect choice for long holiday weekends such as this year's upcoming Fourth of July," notes Dr. Kevin Sadati.
What are the Best Procedures to Have Performed Over A Long Holiday Weekend?
Balloon Sinus Dilation— This in­-office procedure provides instant and long-lasting relief from chronic sinusitis. It allows patients to feel immediate relief and can help those who suffer from chronic seasonal allergies.
Natural Facelift — This natural-looking lower face and neck lift, known by Dr. Kevin Sadati's patients as his Natural Lift, is an alternative to the traditional facelift procedure, providing patients with superior, long-lasting, results and an easier recovery. This procedure can be performed in-office under local anesthesia and twilight sedation, without the need for general anesthesia.
Blepharoplasty— Often known as an eyelid lift, this surgical procedure rejuvenates a person's appearance and eliminates the impacts of aging. While it is a cosmetic surgery procedure, it is minimally invasive and the recovery associated with blepharoplasty is short and tolerable for the patient.
Fat Grafting to the Face — Fat grafting, also known as a fat injection, is a natural alternative to traditional dermal fillers. During this cosmetic procedure, fat is removed from unwanted areas of the body and placed in the desired areas in order to naturally fill out the face and once again restore lost volume.
Liquid Facelift — Injectable dermal fillers, such as Juvederm XC™, Juvederm Ultra XC™ and Radiesse® can be used in order to instantly eliminate wrinkles and fine lines from the face. While there is no recovery associated with this procedure, the results are temporary. Non surgical results last for about six to nine months although, with the use of Allergan's new dermal filler VOLUMA™, patients can now enjoy the same results for up to 2 years.
Non ­Surgical Rhinoplasty — Radiesse®, an injectable dermal filler, is used during this non­ surgical alternative to the traditional rhinoplasty (nose job). The appearance of the nose is easily enhanced during this quick procedure, and there is virtually no recovery time. Results last for about one year.
"No matter which procedure a patient chooses, they will not regret utilizing their long holiday weekend in order to achieve a new look and a fresh dose of confidence. I recommend any of these procedures to people who want to make a significant impact without dealing with a lengthy, painful recovery," explains Dr. Kevin Sadati.
Patients who are interested in having one of these procedures performed are invited to set up a complimentary cosmetic consultation appointment with Dr. Kevin Sadati at the Gallery of Cosmetic Surgery. To find out more information about the rising popularity of having cosmetic procedures performed over vacation, contact Dr. Kevin Sadati's office today at 949-706-7776 or visit http://www.galleryofcosmeticsurgery.com.