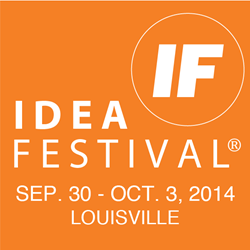 IdeaFestival continues to empower attendees to go out and create new business ventures, products, and services while promoting disruptive thinking and the opportunity to explore and innovate.
(PRWEB) June 18, 2014
IdeaFestival® 2014, a leading celebration for creative thinkers and the intellectually curious, announces additional speakers. The Festival boasts over 20 speakers and performers who will inspire, entertain and promote disruptive idea creation and innovation from Sept. 30th - Oct 3rd, at The Kentucky Center for the Performing Arts.
Festival Passes are currently on sale for $400.
This powerful, three-day event brings together an impressive list of emerging and well-known influencers from a variety of disciplines including science, the arts, design, business, film, technology, education and much more – all working towards the convergence and exploration of how ideas shape our future. Additional speakers and influencers announced for this year include:
Tyler Cowen - American economist, academic and writer, co-author of the popular economics blog Marginal Revolution
Sarah Eichhorn - Associate Dean of Distance Learning at the University of California, Irvine, she was one of four instructors for an interdisciplinary massive open online course on "Society, Science, Survival: Lessons from AMC's The Walking Dead" Network
Peter Zeihan - Expert in geopolitics, the study of how place impacts financial, economic, cultural, political and military developments
Virginia Postrel - Political and cultural writer, author of The Future and its Enemies and The Substance of Style
Clive Thompson - Contributing writer to Wired and The New York Times Magazine and author of Smarter Than You Think: How Technology is Changing Our Minds for the Better
Juan William Chávez - artist and cultural activist exploring the potential of space through creative initiatives that address community and cultural issues. His awards and grants include John Simon Guggenheim Memorial Foundation, the Graham Foundation for Advanced Studies in the Fine Arts, Art Matters and the Gateway Foundation
Visit ideafestival.com to learn more about the 2014 confirmed speakers to date.
Tickets for IdeaFestival's annual kick-off day, Thrivals 7.0: The Quest: Changing the Future of 2035 are also available as a Festival Pass add-on for only $49. Thrivals will be hosted by Janelle Monae and the Wondaland Arts Society and feature speakers Darell Hammond, Regina Holliday and Nat Irvin. Thrivals 7.0 will be held on Tuesday, September 30th, 2014.
Please visit ideafestival.com for more information and to buy your Festival Pass. Stay Curious™.
About IdeaFestival®
Founded in 2000, IdeaFestival® is a celebration for the intellectually curious. It's an eclectic network of global thinkers and one-of-a-kind innovators bound together by an intense curiosity about what is impacting and shaping the future of the arts, business, technology, design, science, philosophy and education.
The Festival is held every fall in Louisville, Kentucky at The Kentucky Center for the Performing Arts. The setting, thought-provoking sessions and informal tone make IdeaFestival a truly unique experience. Those who attend leave the event with interesting new ideas, a better sense of connectedness, an expanded network of relationships and lasting inspiration to help create change in the world.
Follow us @ideafestival and #IF4 to get the latest updates on speakers, sessions and affiliate events.