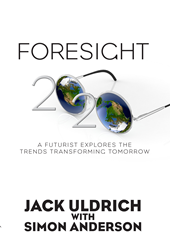 In an ever changing world strategic planning is less and less helpful. What needs to replace strategic planning is a thoughtful policy of experimentation.
New Orleans, LA (PRWEB) June 19, 2014
The 2014 Financial & Insurance Conference Planners (FICP) Education Forum will feature keynote speaker and best selling author Jack Uldrich delivering his speech, "Ten Trends Transforming Tomorrow." Uldrich will also hold a special breakout session: "The Big AHA ..."
As a futurist, Uldrich poses the question, "What will the coming decade look like?" And his rhetorical response is, "The honest answer is that no one knows. A glimpse, though, can be found in a promising new start-up, Oculus Rift. Two years ago, Palmer Luckey was a teenager with a clever idea for a new business. Foregoing the traditional path of securing a bank loan, Luckey instead went to Kickstarter—a peer-to-peer lending platform—and, within days, raised $1 million from strangers. This success caught the attention of venture capitalists who quickly poured in $25 million to create a working prototype. From an idea in a teenager's head to a $2 billion company in less than a year-and-a-half! Welcome to the future—where business as unusual will become usual."
As a scholar, forming and striving to find answers to questions is one of Uldrich's primary tasks. As a speaker and writer he then puts his answers down in book form, (his latest book is Foresight 20/20: A Futurist Explores the Trends of Tomorrow). He then heads out to speak both nationally and internationally on a variety of topics, such as change management and unlearning that he feels are pertinent to government and business leaders. One such topic is the "Big AHA." Uldrich says, "The pace and scale of tomorrow's change begs the obvious question: How does a business leader prepare for a constantly changing future? The answer can be found in a simple acronym: AHA. It stands for: Awareness, Humility and Action."
Uldrich will be discussing the top ten business trends along with the Big AHA with the FICP at their 2014 Education Forum in New Orleans. This session is following on the heels of several keynotes delivered throughout the month of June to Verizon Wireless Connected Technology Tour, the Community Transportation Association of America, LeadingAge of New York, Racine's County Economic Development Corporation and the Scottsdale Lincoln Health Network.
Uldrich is a renowned global futurist, best-selling author, editor of the monthly newsletter, The Exponential Executive, and host of the award-winning website, jumpthecurve.net. Parties interested in learning more about the event, his speaking availability or interviewing Jack can contact Amy Tomczyk at (651) 343.0660.