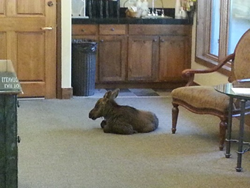 "This was a first for a moose, or any animal, on the loose in our lobby," says Antlers at Vail General Manager Rob LeVine.
Vail, CO (PRWEB) June 17, 2014
For guests at the Antlers at Vail hotel in Vail, Colo., just grabbing a cup of coffee in the lobby constituted a wildlife tour last week when a baby moose paid an unexpected visit, an event that made news from ABC's Good Morning America to Britain's Daily Mail. But for those who missed the recent moose-on-the-loose ruckus, the Antlers is offering a new family-friendly "Lunch with a Llama" wildlife tour package that offers guests plenty of opportunity to see Colorado wildlife in its preferred Rocky Mountain habitat.
The Antlers at Vail often leaves its doors open in nice weather, but while "we've had close encounters with wildlife before," says Antlers at Vail General Manager Rob LeVine, mentioning incidents of bear tracks outside, a trapped weasel once, and even a fox by the swimming pool, "this was a first for a moose, or any animal, on the loose in our lobby." The moose's unexpected visit did inspire Antlers staff to design an opportunity for guests to experience the area's bountiful wildlife – and be guaranteed a photo-opp with a llama, if not a moose, "but outside the hotel," says LeVine.
The new Antlers package offers two nights' lodging in an Antlers one-bedroom suite and a "Lunch with a Llama" half-day personalized llama trek to view wildlife for two with Vail's Paragon Guides for $690 (tax included) throughout the month of August 2014. A value option for families of four with two kids under 10 includes two nights in a comfy one-bedroom-plus-bunk beds suite and the half-day wildlife hike with Paragon's kid-friendly llamas for $757. For reservations before August 1, larger groups or room upgrades, check with the Antlers at Vail for pricing. The more adventurous can request a full-day back-country wildlife-viewing llama trek for an additional charge.
Although adorable, the baby moose that sought refuge in the Antlers at Vail hotel lobby offers a serious lesson about what happens when people interfere with wildlife. Wildlife officials had to tranquilize the young moose and move it to a safe facility for rehabilitation when its mother couldn't be located. In the wake of the experience, the Antlers has reached out to the Department of Wildlife for information it can use to help educate its guests about what to do if they come in contact with wildlife.
"We received a lot of attention about the baby moose in our lobby," says LeVine, "and we think it's an opportunity to do some good. We're looking into promoting a local wildlife awareness campaign."
Prior to the 1970s, moose sightings in Colorado were extremely rare, with only a few strays wandering into Northern Colorado from Wyoming. A series of transplants of moose into the state by wildlife management starting in 1978 gave the animals a jump start, and the introduced moose have thrived and expanded their range into good habitats, with Colorado's moose population now approaching 1,000 animals statewide according to Colorado Parks and Wildlife.
When baby moose are born, mothers may leave them alone for many hours at a time while they go in search of food, explains one Department of Wildlife official. Sometimes people finding a lone baby moose will attempt to "help" it, but any contact with the baby or attempt to move it from where the mother left it may result in the baby being permanently separated from its mother.
In addition to cautioning Vail guests on how to handle wildlife encounters, the Antlers at Vail staff wants to encourage visitors to find safe and fun ways to get a look at local wildlife, as with the guided wildlife-viewing llama trek that is part of its new Lunch with a Llama wildlife tour package.
About the Antlers at Vail hotel:
The Antlers at Vail hotel offers a relaxed Vail lodging experience in a fabulous mountain setting and was recently awarded a TripAdvisor Certificate of Excellence and GreenLeader status. With condominiums ranging from studio suites up to four-bedroom penthouses, every unit at the Antlers enjoys a fully-equipped kitchen, fireplace, private balcony, daily maid service, and complimentary wi-fi and parking. The Antlers has an A+ location on the banks of Gore Creek, just steps from restaurants, galleries, shops, free Vail town shuttle and the Lionshead Gondola. And Antlers' staff is always ready to help with – and offer an insider expert take on – dinner reservations, activities or any other guest request. For more information, call 1-800-843-8245 or visit http://www.antlersvail.com.
Contacts:
Rob LeVine, General Manager, The Antlers at Vail, RLeVine(at)antlersvail(dot)com, 970.476.2471; Anne Parsons, WordenGroup Public Relations, anne(at)wordenpr(dot)com, 303.777.7667.