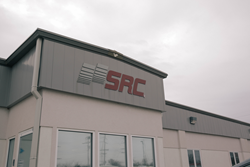 Springfield, MO (PRWEB) June 18, 2014
SRC Holdings Corporation of Springfield, Missouri and Hexadex Limited - a UK-based company - have formed a joint venture to remanufacture Diesel Particulate Filters, Diesel Oxidation Catalysts and Catalytic Converters for on-highway medium and heavy duty trucks, agricultural, construction, automotive and light truck vehicles.
"The new company will be called Ceramex North America LLC (CNA) which will remanufacture used emission systems in Monett, Missouri," says SRC Executive Vice President, Scott Dalenberg. "This exclusive innovative solution restores the systems to original equipment manufacturer specifications for a fraction of the price of a new replacement emission system with a 50% greater yield than current cleaning systems."
CNA will have an office in the Missouri State University eFactory where it plans to work with University personnel to continually innovate procedures to support the need for clean environmental initiatives to keep the economy moving on a comeback trail.
Hexadex Limited has been a leader in developing cutting edge exhaust and emission systems for more than 36 years. Their patented technology monitors the Catalytic activity of an engine filter to ensure it meets emission regulations and ensure that there are no defects in the substrate.
About SRC Holdings Corporation
Springfield Remanufacturing Corporation (SRC) has been at the forefront of the remanufacturing industry since the early 1980s when founder and CEO, Jack Stack spearheaded an employee buyout of International Harvester's remanufacturing facilities. In addition to being a leading remanufacturer to OEMs, SRC is known internationally as the "birthplace of open-book management." The company gained notoriety when Stack authored the bestselling business book, The Great Game of Business which discussed how SRC used the concepts of transparency to educate, engage and empower employees to understand and make business decisions. Today, SRC is a thriving company of over 1,600 engaged employees in more than 17 business units across a variety of industries.
About Hexadex Limited
Hexadex Limited - is a privately owned Group holding company based in Lincolnshire, England. Its role is to nurture the growth of each subsidiary, and acquire new businesses which are either complementary to its existing activities, or where it can use its core expertise to add value.