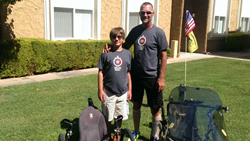 'Dan is inspiration and motivation for the HHT community, with his perseverance and positive attitude,' said Marianne S. Clancy, Executive Director of the HHT Foundation. 'The HHT team will be cheering him on during his 5,200 mile endeavor.'
Anacortes, Washington (PRWEB) June 20, 2014
Dan Zimmerman was diagnosed with HHT disease in the mid-80's after his brother's death from HHT at age 19. In 2005, at age 41, Dan suffered a stroke as result of HHT disease that paralyzed his right arm and leg and damaged the left side of his brain. His doctor told him that he would never walk or talk again. Angry, Dan knew he either had to give up or he had to fight.
Dan is like 40% of the people who have HHT that experience AVMs in their lungs (pulmonary AVM or PAVM). People with the HHT 1 (ENG) gene are 5-10 times more likely to have PAVMs than those people with HHT2 (ACVRL1) gene. PAVMs are almost always easily treatable.
Dan knew that recovery would be a life-long process, he decided to give it everything he has and to raise awareness about the affects of HHT disease. It took a little more than a year before Dan could speak and three years before he could spell simple words.
In 2008, wanting to be more mobile than his wheelchair allowed, Dan began to ride a recumbent trike to aid in his recovery. Dan says, "Cycling has improved my health and more importantly, given me a purpose in life."
As June, National HHT Awareness Month, comes to a close, Dan is helping the HHT Foundation raise awareness about HHT, a disease that took the lives of his loved ones and one that today, he and his son suffer the affects of. On June 29th in Anacortes, Washington, Dan is kicking off the biggest challenge of his life, a cross-country bicycle ride of 5,200 miles to help raise awareness about strokes and HHT disease.
Dan Zimmerman's ride, aptly named "The Road to Margaritaville" covers portions of different bicycle routes, published by the Adventure Cycling Association, including the Northern Tier, Lewis and Clark, Underground Railroad, Southern Tier and Florida Connector. Dan will be riding in 15 different states while making his journey to his final destination in Key West, Florida.
Learn the signs and symptoms of HHT and more on The HHT Foundation International's website.
For more information about Dan's ride, email Cathleen Kinnear, Manager, Education & Awareness Programs of the HHT Foundation International at Cathleen(dot)kinnear(at)hht(dot)org or reach her by phone at 410-357-9932.
About the HHT Foundation International
HHT disease affects the lives of more than 1.4 million people worldwide. Most are unaware that "nosebleeds in the family" can be something much more and potentially life-threatening. As the only patient advocacy organization in the world, the HHT Foundation International is dedicated to educating, improving access, increasing standards of care, advancing treatments and raising awareness about HHT disease.
Donations made to the HHT Foundation help fund initiatives that provide the greatest change for improving lives of HHT patients today and for future generations, including:

Providing "seed money" for HHT research on promising therapies
Improving access to care by adding more HHT Centers of Excellence
Building a registry of HHT patients to help medical and science professionals determine
which treatments work best

Standardizing HHT treatments using the latest science and research from around the
world to ensure patients are receiving best practices