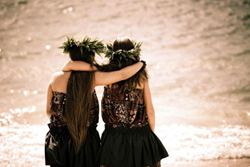 These Paul Gauguin cruises indulge passengers while still maintaining a laid-back, island feel.
Missoula, Montana (PRWEB) June 19, 2014
Travelers interested in a South Pacific trip can take advantage of a current offer on some of Adventure Life's popular cruises. Passengers who book a 2014 departure by July 31st will receive a $200 onboard credit to use during the trip. These cruises on the Paul Gauguin incorporate wildlife watching, cultural activities, snorkeling, and kayaking all while enjoying the luxury of this ship.
The Paul Gauguin was specifically designed to sail the shallow seas of Tahiti and French Polynesia, visiting small ports that larger ships cannot. The Gauguines, local Tahitians who serve as the cruise staff, add to the unique atmosphere which radiates warmth, informality, and Polynesian flair. This ship is exquisitely appointed with features such as an extensive spa, complimentary beverages, three dining venues, dive program, and piano bar. Onboard, the relaxing island atmosphere is coupled with 5-star service, comfort, and indulgence.
Current cruise rates on the Paul Gauguin start at $2,445 per passenger. The shipboard credit of $200 per passenger applies to all 2014 trips when booked by July 31st. To see the details of the itinerary options on the Paul Gauguin visit http://www.adventure-life.com/cruises/ships/paul-gauguin-254.
"This credit is a great incentive for travelers interested in visiting the South Pacific," said general manager Jonathan Brunger. "These Paul Gauguin cruises indulge passengers while still maintaining a laid-back, island feel."
To explore the world, visit http://www.adventure-life.com or call 800-344-6118.
About Adventure Life
Adventure Life is a company of travelers with a passion for sharing the world with others. Our travel experience runs deep, from years volunteering in rural Africa and Central America, to research trips in Asia, studying in Europe, guiding in the Rockies, and just bouncing around every corner of the world. This deep experience is the reason behind our pioneering approach to travel and award winning itineraries. For nearly fifteen years we have been creating personal itineraries that immerse our travelers in the vibrant colors of a place, leaving both our guests and hosts enriched by the experience. From our beginnings as a Latin America specialist, we now offer private journeys, small group tours, and expedition voyages throughout the world. We pride ourselves on our intimate knowledge of our destinations and our dedication to sharing the world.
Media Contact:
Sublime Public Relations
Steve Snyders
steve(at)sublimepub(dot)com
406-728-4180