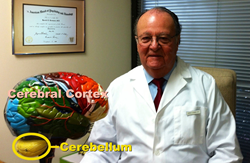 Add a quotable 'Males were likely to become more easily frustrated by their disorder and act-out, and are thus more likely recognized, referred and diagnosed than females.'
Great Neck, New York (PRWEB) June 17, 2014
In a recent study by the Center for Disease Control (CDC), approximately 3x and 5x more males were recognized to have ADHD and Autism (ASD), respectively. And for decades, the reported ratios of males/females with dyslexia or LD have varied from 10/1 to 2/1. Since these combined impairments may affect as many as 30% of the population, common insights codetermining these frequently overlapping disorders are considered crucial.
Beginning in the late 1960's, Dr. Levinson's research initially demonstrated that the male/female incidence of dyslexia with/without ADHD increased from 1.6/1 when children were initially diagnosed in 1st grade compared to 4/1 when diagnosed in 4th grade.
Since the true male/female incidence of both dyslexia and/or ADHD (and autism) remains significantly the same throughout childhood, Levinson recognized that the reported increasing male/female ratios with increasing grade initially diagnosed were only referral rates.
Accordingly, Levinson reasoned that males over time and age were likely to become more easily frustrated by their disorder and act-out, and thus more likely recognized, referred and diagnosed than females. "These considerations were consistent with Vernon's theory proposed many years before me," Levinson states, "as well as validating data presented by Shawyitz years later. However, a genetically determined greater female resistance or male susceptibility to stressors newly reported in autism may also play a codetermining role in dyslexia and ADHD."
"If my hypothesis is proven correct," notes Levinson, "it offers invaluable insights into the important interplay of neurophysiological and psychological factors in both symptom formation and severity and thus diagnostic recognition. It also suggests that males with the above disorders may often require and benefit more from combined psychological and somatic therapies."
This important combined link between body and mind in creating and maintaining symptoms was first recognized by Freud as "somatic compliance" and later called a pathoneurosis by Ferenzi. In other words, many primary somatic impairments (eg. dyslexia, ADHD, autism, etc.) are secondarily triggered, intensified and/or maintained by superimposed emotional mechanisms.
Accordingly, Levinson emphasizes that improvements in overall symptomatic severity due to relief of secondary or contaminating influences (e.g., frustration, divorce or insomnia, etc.) in ADHD or dyslexia (and autism) may have misled some into erroneously concluding that these disorders do not exist as discrete somatic entities and/or that they had been psychologically caused.
Based on Levinson's clinical experience, once the emotional conflicts and stressors are psychotherapeutically removed, somatic therapies may prove significantly more helpful in the above disorders. Thus, for example, the failure of stimulants to significantly improve ADHD in a child also beset by severe emotional conflicts may incorrectly detract from this medication's potential efficacy. Similarly, improvements due to somatic therapies provide patients and clinicians with clearer insights into other overlapping emotional problems requiring resolution.
About Harold Levinson, M.D.
Formerly Clinical Associate Professor of Psychiatry at New York University Medical Center, Dr. Harold Levinson is currently Director of the Levinson Medical Center for Learning Disabilities in Long Island, New York. He is a well-known neuropsychiatrist, clinical researcher and author. For more information, call 1(800)334-7323 or visit http://dyslexiaonline.com.