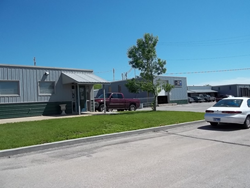 Rapid City, S.D. (PRWEB) June 18, 2014
Working in the manufacturing and fabrication business for his entire career, Ron Christensen always dreamed of taking the next step and owning his own business. Using the services of Guidant Financial to fund his new venture, he finally took the leap from employee to employer and purchased West Central Hollow Metal Manufacturing.
"I was at a point in my life where I wanted to make my own decisions and be independent," Christensen said. "My only regret is [that] I waited too long."
West Central Manufacturing creates custom and standard steel doors, door frames and window frames for commercial buildings. Starting with a flat sheet of steel, West Central's engineers shear, punch, bend and weld the material to make the finest of hollow metal products.
While discussing ways to finance his business purchase, Christensen's business broker suggested he contact Guidant Financial. With the firm's help, Christensen was able to invest funds from his retirement account in his small business. Now, the new entrepreneur enjoys the freedom of being his own boss and working with his team to make quality products for his distributors.
Outside of metal manufacturing, Christensen enjoys spending time in the great outdoors. His favorite activities are fishing, hunting, outdoor sports and camping with his family.
West Central Hollow Metal Manufacturing, located at 910 E. Saint Andrews St. in Rapid City, is currently open for business. To learn more about the superior metal products available, visit westcentralmfg.com, email ronc(at)westcentralmfg(dot)com or call 605-718-9670.
###
West Central Hollow Metal Manufacturing
West Central Hollow Metal Manufacturing provides the finest of both custom and standard hollow metal creations, fire-rated to decorative. Located in Rapid City, South Dakota, West Central operates a 35,000 square foot facility and employs only the best craftsman and engineers, many of whom have more than 20 years of experience. The company works with distributors throughout the West Central United States to provide contractors with a local contact, and also offers its services to architects. Learn more at westcentralmfg.com.
About Guidant Financial
Guidant Financial helps people create the life they want through innovative small business financing. They are the premier provider of rollovers for business start-ups (ROBS). Guidant's services allow people from all walks of life the freedom to purchase small businesses and franchises using their retirement funds without taking a taxable distribution or getting a loan, in addition to offering traditional funding options such as SBA loans, portfolio loans and unsecured credit. Visit Guidant on the Web at guidantfinancial.com.