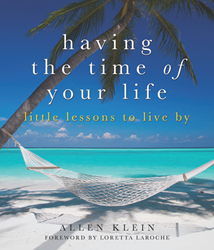 Life is so precious. Please, please, let's love one another, live each day, reach out to each other, be kind to each other."—JULIA ROBERTS
(PRWEB) June 17, 2014
Allen Klein, inspirational author of Having the Time of Your Life: Little Lessons to Live By, was interviewed on CBS's Bay Sunday. Bay Sunday called Klein's collection a "delightful read." The show explored the inspiration behind the compilation of inspiring quotes that attempt to speak to the meaning of life. As Klein himself said, "the book has no answers, just suggestions."
A Peak Inside Having the Time of Your Life (also in audio):
"Life is so precious. Please, please, let's love one another, live each day, reach out to each other, be kind to each other."
—JULIA ROBERTS
"Put yourself out there. Be brave. Be bold. Take action.... You may not always be popular, but you're part of something larger and bigger and greater than yourself. Besides, making history is extremely cool."
—SAMUEL L. JACKSON
In this easy-to-digest, delightful-to-read book, Allen Klein explores the meaning, madness and mirth of life. Klein dives into the big questions: What's life? Why are we here? And how do we enjoy the journey? In Having the Time of Your Life, Allen Klein helps us consider these issues while providing many laughs along the way. He has collected 500 inspiring and uplifting quotations on the endlessly fascinating subject of life itself. From Oprah Winfrey to Abraham Lincoln, the people quoted in this book offer healthy doses of motivation and levity that we all need to live a well-examined life.
Allen Klein is an award-winning professional speaker and author. His books Quotations to Cheer You Up When the World is Getting You Down and The Lift Your Spirits Quote Book have sold over 500,000 copies. He lives in San Francisco.